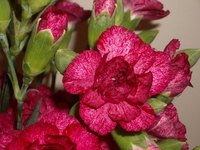 Carnations fill out many floral arrangements, adding their beautiful color to the other fresh flowers. While you are likely familiar with cut carnations, they also add beauty to flower gardens. Carnations (or dianthus as some gardeners know them) grow well in USDA zones 5 through 9, as long as you provide proper growing conditions. Winterize carnations in the autumn to prepare them for the cold winter months and they will return with vigor the following spring.
Things You'll Need
Carnations
Pruning shears
Shredded mulch (leaves or wood chips)
Cut back the stems of the carnations to approximately 3 inches above the soil level in the middle of autumn. Waiting to cut back the blossoms will give the carnations time to seed.
Apply 2 to 3 inches of shredded mulch over the carnation planting area after waiting for the ground to freeze completely (this may not be until late autumn or early winter, depending upon your growing region).
Remove the mulch in the spring to prevent the stems from decaying over the growing season.