Things You'll Need
Frozen shrimp

Skewers

½ c butter

Basting brush

Italian seasoning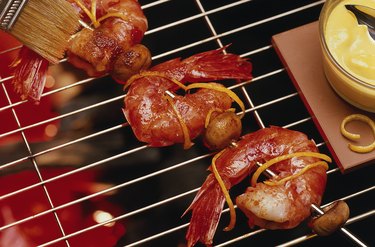 When summer approaches, the desire to grill becomes more prevalent in many American households. When you start thinking about hamburgers, hot dogs and ribs, stop and think shrimp instead. Shrimp is relatively inexpensive compared to other seafood, and it has a great flavor when grilled. Cooking the shrimp when it is frozen helps to trap the flavor into the meat. Add a few herbs and you have a great-tasting main dish, or a fantastic side dish for when friends come over.
Step 1
Prepare the grill as per manufacturer's instructions.
Step 2
Stick the shrimp on the skewers. This should be done lengthwise to get a better hold on the shrimp and to allow an even heat distribution. If you are using bamboo skewers, soak them in water for 10 to 15 minutes before putting the shrimp on. The moisture keeps the wooden skewers from burning up on the grill.
Step 3
Use a basting brush to spread the butter over the shrimp. This lets the seasonings stick to the shrimp.
Step 4
Cover the shrimp with Italian seasoning. Turn the skewer over and repeat.
Step 5
Place the shrimp on the grill when the grill is ready. There should not be any fire in the grill, otherwise the shrimp can burn.
Step 6
Cook three to four minutes on each side. You are cooking the shrimp a little longer because it is frozen, but it thaws out quickly. If you want the shrimp a little crispy then add two minutes to each side. The Italian seasoning will form a soft semi-crunchy layer.
Step 7
Remove from the grill and serve.
Tip
Vegetables steamed on the grill become a great side dish for grilled shrimp. This recipe is for one serving.
3 large mushrooms, sliced 1 oz. of green beans ½ tsp. capers 1 oz. feta cheese ½ tsp. butter
Lay out some aluminum foil. Place into the aluminum foil sliced mushrooms, green beans, capers, feta cheese and a touch of butter. Wrap the aluminum foil to hold its contents well. Place the vegetable package onto the grill and let cook until hot. This usually takes about eight to 10 minutes. The butter will steam the vegetables in the aluminum foil. Remove from the grill and serve with the grilled shrimp.