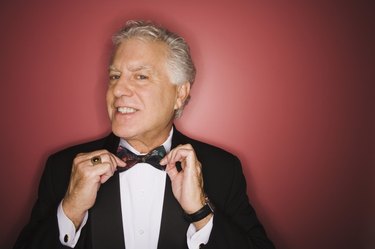 The tuxedo stands as a symbol of elegance and refinement in our society. The crisp and clean nature of the tuxedo's design demands that the shirt must be properly cleaned and taken care of. Most commonly these shirts come in cotton or a cotton/poly blend. Harder to care for than poly blends, cotton breathes easier and is softer. Another consideration is that 100 percent cotton will wrinkle more easily than a blend.
Things You'll Need
Washing machine

Laundry detergent

Stain stick

Steam iron
Step 1
Check the shirt for stains immediately after use. Most commonly stains occur down the front of the shirt where the tuxedo jacket leaves the shirt exposed, but other problem areas include the cuffs, collar and armpit area. Use the tip of the stain pen to gently rub the area with it's cleaning fluid. Stain removal works most effectively before stains have time to set in to the fabric.
Step 2
Place shirt in washing machine using the gentle cycle setting. Consult your shirt's care tag for water temperature. Ideally, use warm water, but sometimes fabrics, such as pure cotton, will require cold water to avoid shrinkage. Use the amount of laundry detergent that the bottle's label directs for a small load.
Step 3
Take the shirt out of the washer and lay it flat to dry. Air drying prevents any excess shrinking.
Step 4
Use a steam iron to gently press the shirt. Focus on the small ridges of material on the front of the shirt as these should be crisp and will be most exposed while wearing a tux. Give the cuffs and collar a firm press to give them a well kept and crisp look.
Tip
Do not dry clean a tux or dress shirt. The chemicals used in dry cleaning can yellow the fresh white appearance of the material.
When hanging your shirts in the closet, do not cram as many in as possible. Giving your shirts a little "breathing" room will help avoid wrinkles and mishaping.
Warning
Steam irons are very hot on their metallic surface. Do not touch this area as it will cause burns. Be sure to unplug and turn off your iron when you are finished. An unattended iron can cause a fire.