After enjoying many sunny mornings or afternoons on the putting green, your golf cart seats will eventually look like they've seen better days. Golf cart seats--like many upholstered pieces of furniture--are covered with vinyl, leather or cloth. The way the original coverings were attached to the seat is the same way you can make your own golf cart seat covers.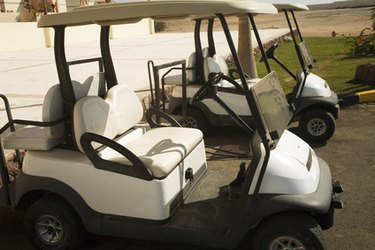 Things You'll Need
Phillips Or Flathead Screwdriver

Scissors

Sewing Machine

Staple Gun

Thread
Remove the Old Covers
Step 1
Locate the screws that hold the seat cushions to the golf cart's seat frame.
Step 2
Lift off the seat and the backrest parts and remove the old fabric.
Step 3
Use the old covers as a template for the new ones.
Replacing the Fabrics
Step 1
Measure the required yardage needed to cover your golf cart seats using the old seat covers as a guide.
Step 2
Select your favorite replacement fabric from your local fabric store. Choose durable outdoor fabrics that will stand up to the elements.
Step 3
Spread the new fabric onto a work surface and lay the old seat covers on top. Pin the old fabric to the new fabric if it's not too thick. Otherwise, trace the outline of each old piece onto the new fabric.
Step 4
Cut out the new pieces and lay them down with the right side facing down.
Assembling the Seat Cover
Step 1
Lay the seat cushion with its top facing downward onto its new fabric piece. Center the cushion width- and lengthwise.
Step 2
Use a staple gun and staple the fabric to the underside of the seat frame or use the same fastening method that was previously used. Start at the center of the top and bottom and then move the center of the two sides, pulling the fabric taut.
Step 3
Staple the fabric along each side, from the center out to the corners.
Step 4
Pull the fabric at the corners downward and stretch it downward to avoid any pleats. Sew the corners into a bowed corner or give each corner a tight, neat fabric fold before folding under and stapling.
Step 5
Cut away the excess fabric, position the seat cushion onto the golf cart and screw it back in place.
Assembling the Backrest Cushions
Step 1
Lay the backrest cushions onto the new fabric pieces and center them both by width and length. Fold over the fabric at the middle of each side, securing the opposite sides in order and pulling the fabric taut.
Step 2
Staple the fabric along the sides to the corners, and either sew squared or boxed corners or pull the fabric taut for a neat corner finish.
Step 3
Cut away the excess fabric and screw the backrest cushions back into the golf cart seat frame.