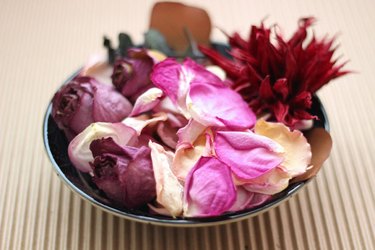 Of all the endless varieties of potpourri one could make, a potpourri mixture of dried flowers might be the purest and most beautiful combination of them all. Dried petals nestle with whole flower blooms to create a colorful and fragrant decor essential that will freshen up any room in the house. It's also a great way to preserve flowers that you've picked from the garden, or received as gifts.
Start with Dry Petals
In a potpourri of dried flowers, the majority of the contents should be flower petals, as they add a delicate, airy beauty to the mixture.
• Many varieties of flower petals dry nicely for potpourri. Look for flowers that have large petals such as roses, tulips and peonies, so the dried versions hold their shape.
• It's easy to dry the petals in a microwave, an oven or pressed in a book
• Use more than one color of petal in the potpourri to provide depth and visual interest.
Include Full Flower Blooms
• Dried rose buds have an elegance that goes with most design styles.
• Experiment with other varieties of flowers. Chrysanthemums and hydrangeas dry well, and their texture is completely different from the dried roses.
• Because they are so much heavier than the dried flower petals, use these full blooms sparingly.
Accent with Dried Botanicals
The focus of this potpourri is the flowers, so when it comes to additional botanicals, a little goes a long way.
• Don't let the botanicals overwhelm the dried flowers, especially the delicate petals.
• Forage for leaves and woody elements in your own yard.
• Use artificial silk leaves, or leaves made of paper, if you don't have a yard.
Mix All Ingredients Together
In a large bowl, mix all the ingredients together.
• Add 5 or 6 drops of essential oils to pump up the fragrance of the potpourri.
• Sprinkle one to two tablespoons of fixative onto the mix to help preserve the fragrance and make it last longer.
• Place the mixture in a sealed container for 4 to 6 weeks to allow the fragrance to reach its peak.
• Stir or shake the mixture once a week.