Things You'll Need
Ladder

Caulking gun

Silicone adhesive

Water

Shingle granules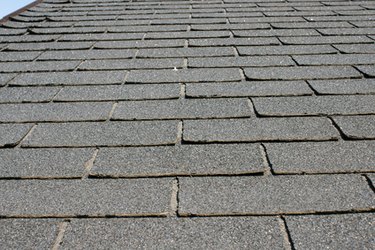 If you are a homeowner and are noticing that your roof is looking old and worn out, you will need to examine the roof. Your roof may be in the later years of its 20- to 30-year life expectancy. Possibly, the shingles on your roof are starting to wilt and curl up or down at the corners. This is completely normal on older shingles. This is also normal on shingles that are exposed to the sun more so than other parts of your roof. The good news is that you can replace or repair the shingles without having to replace your entire roof on your home.
Step 1
Locate the shingles that need repair. Do not attempt to walk on your roof unless you are able to do so safely.
Step 2
Once the shingles are located, you will need to apply the silicone adhesive on the underside of the bad shingle.
Step 3
Fold the corner of the wilted shingle gently so that it lays flat. Press firmly down to the silicon adhesive. Let the shingle sit for 24 hours. If you are safely able to add weight to the shingle without the object sliding off of your roof, this will help seal the shingle.
Step 4
Apply a bead of the silicone adhesive around the outside of the shingle and all cracks or breaks. Wet your finger with water; doing so will not allow the silicone to stick to your skin easily. Move your finger in a circular motion on the shingle. This will allow any trapped air or bubbles to escape. Smooth out the top of the surface of the silicone with your finger.
Step 5
Place granules on the silicone that you just smoothed out. If you have any extra shingles, you can break one in half. Once the shingle is broken in half, rub the two pieces together to get loose granules. If you do not have any spare shingles, your rain gutter on your home is bound to have some. Once you have the granules, sprinkle them over the silicone and let them dry. Repeat all steps for every shingle that needs to be repaired with a silicone adhesive
Warning
Do not attempt to repair your roof if you are unsure if you are physically capable of doing so. Remember, there is always a possibility of physical injury when you climb on top of your roof. Please take all necessary precautions.