Things You'll Need
Dried palm kernels

Nut cracker

Oven

Blender or hand mortar

Bowl

Spoon

Pot

Jar with lid

Cheese cloth

Funnel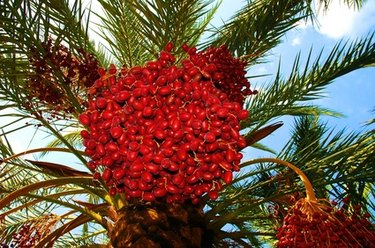 Palm oil is extracted from one of two parts of the palm plant. Palm oil from the fruit of the palm plant is different from palm oil from kernels, or the nut of the fruit. There are even different health benefits. According to Dr. Ella Johannesen, palm fruit oil has high levels of vitamins and antioxidants that are essential to human health; these are not present in palm oil extracted from kernels. She also states that oil from the fruit stays fresh for a longer shelf life without preservatives.
Palm Kernel Oil Extraction
Step 1
Clean dried kernels with water. Make sure they are free of any dirt or gravel.
Step 2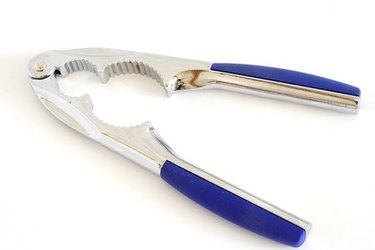 Shell kernels with a nut cracker. Separate the shells from the kernels.
Step 3
Heat the nuts in the oven at 350 degrees until roasted. Grind in a blender or pound with a hand mortar until it is a pasty consistency.
Step 4
Mix the paste with water heated to a boil in a bowl. Boiling water separates the oil from the palm paste. The oil will float to the top. Let the water and paste cool to room temperature.
Step 5
Skim the palm oil off the top of the cooled water with the spoon. Pour the oil in the jar and close tightly.
Palm Fruit Oil Extraction
Step 1
Clean ripe palm fruit with water or steam.
Step 2
Pull the fruit apart and remove nut or kernel. Each fruit will have one kernel.
Step 3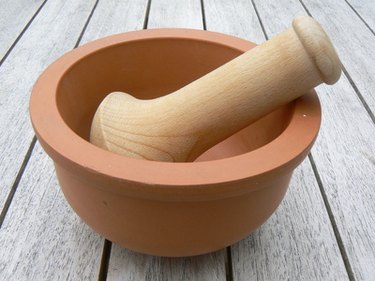 Place the palm fruit in the hand mortar and crush to a pulp.
Step 4
Boil the pulp for 30 minutes. This serves to remove extra water from the pulp fibers.
Step 5
Line the funnel with cheese cloth. Place the spout end of the funnel inside the jar. Pour the pulp though the cheese cloth to strain the palm oil from the pulp. Tightly seal the jar.
Tip
Palm fruit is ripe when the outer skin turns dark red or black.
Warning
Palm oil made from kernels may be temperature sensitive and may require preservatives to stay fresh longer.