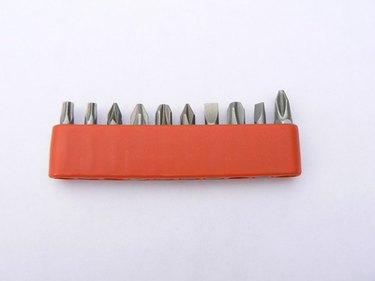 Precision screwdrivers are like regular screwdrivers. But unlike a standard Phillips or flat-head screwdriver, precision screwdrivers come with a number of interchangeable heads that can be switched in and out depending on the project at hand. Buying a precision screwdriver set can save you money and space, and is useful when you are met with an odd-sized nail or screw.
Step 1
Determine what type of screwdriver head you need for your project. There are far more than just two types of screwdrivers. There are security screwdrivers, electronic screwdrivers, precision tech screwdrivers and others. Your precision screwdriver set could have anywhere between five and 50 heads.
Test out screwdriver heads without putting them into the screwdriver handle by simply holding them by the top of the head and seeing if they fit. This will save you a lot of time and trouble in whittling down the head options.
Step 2
Remove the old screwdriver head from the precision screwdriver handle and replace it with the new one sized to fit the project you are working on. Precision screwdriver heads are easy to swap, and normally just entail lining up the hexagonal shape of the head with the hexagonal hole in the screwdriver handle.
Step 3
Use the precision screwdriver and correct head to tighten or loosen the item you are working with. If you start to work and the head doesn't fit right, go back to your set and see if you have anything more appropriate. If not, you may have to improvise.
Tip
Precision screwdriver sets come with a lot of small and similar looking pieces, which can make them hard to keep organized. Luckily, most sets also come with a useful case. Use the case to keep organized and save time.