Things You'll Need
Fabric scissors

Lace

Thread

White long-sleeved T-shirt

Sewing machine

Craft string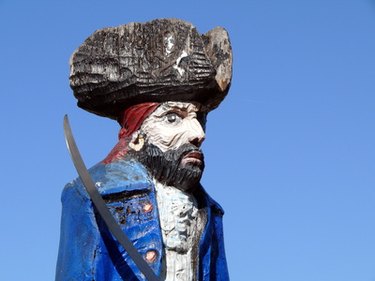 When making a pirate costume, the shirt is one of the most important parts. In addition to costumes, pirate shirts serve many other uses. They can be worn for colonial costumes, pioneer costumes or even just as a fashion statement. Pirate shirts may seem difficult to make, but it is easy to make a pirate shirt from an existing long-sleeved T-shirt and a few common sewing supplies. With basic sewing skills, anybody can make a simple homemade pirate shirt.
Step 1
Cut a piece of lace 18 inches long. Sew a gathering stitch along the straight edge of the lace and gather it until the lace is just as long as the circumference of the shirt's cuff.
Step 2
Turn the shirt inside out. Sew the lace onto one of the shirt cuffs, matching up the gathered edge of the lace with the edge of the cuff. Repeat the process with the other sleeve cuff.
Step 3
Cut out a 3-inch deep "V" shape from the middle front of the shirt's collar. Fold over the raw edges of the "V" 1/4 inch and sew the folds in place.
Step 4
Cut two pieces of craft string that are each 4 inches long. Sew the two pieces of craft string in an "X" formation across the "V" at the front of the collar of the shirt.
Step 5
Turn the shirt right-side out. Pair it with a sash or waist cincher.