Things You'll Need
Stiff-bristle brush

Plastic

Painter's tape

Deck finish

Paint rollers and brushes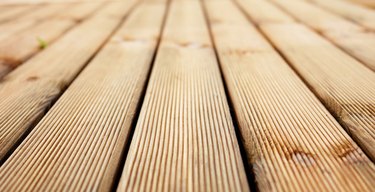 After their introduction several years ago, composite decks became a popular alternative to wood decks. Though the product was hailed as "no" or "low" maintenance, many homeowners report disappointment with the composite material, citing excessive fading, difficulty removing stains and the material's susceptibility to mold and mildew. As a result, many homeowners seek to treat their composite deck with stain or sealant or with products designed to restore the deck's appearance. Though many products claim to restore the deck to its original state, it is virtually impossible to do so. Still, treating the deck with an approved finish does improve the overall look.
Step 1
Choose a deck finish made explicitly for composite decks. Most are oil finishes that penetrate the composite material and help restore the faded product. If you know the manufacturer of your composite decking material, check the official website to see if recommended finishes are listed.
Step 2
Sweep the deck thoroughly. Clean with either a product approved for a composite deck or with a solution of warm water and soap. Use a stiff-bristle brush to remove any dirt, pollen, mold or mildew. Hose the cleaning solution off, and let the deck dry thoroughly. Depending on conditions, drying time may take up to 24 hours.
Step 3
Cover any areas that you want to protect with plastic and painter's tape. Apply the deck finish according to the manufacturer's directions, using rollers and/or brushes. If you use a roller, you will still need a brush to treat corners and crevices. Pay extra attention to any screws or nails that have popped, and go over these with a brush. Brush or roll out any areas where excess finish has been applied or pooled, to avoid any shiny spots that may appear after drying.
Step 4
Allow the first coat of finish to dry according to the manufacturer's recommended drying times. Do not attempt to apply a second coat if it is not recommended or before the first-coat drying time is complete. This would compromise the finished result.
Tip
Apply the finish on days where the temperature is at least 45 degrees F and not above 90 degrees.
Warning
In the case of Trex decking, do not apply any paint, stain or sealant the decking has begun to fade, which, according the manufacturer, takes about 12 to 16 weeks. Applying before this time could compromise how well the stain adheres to the deck and could also cause discoloration.
Do not apply paint, stain or sealant over mold or mildew. This will seal the mold or mildew in as well and make it impossible to remove.