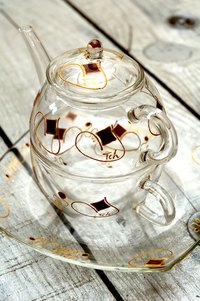 You can obtain beautiful effects by painting on glass and glassware. Washable varieties of paint are easy to use, easy to clean and come in a wide variety of colors, but there are some drawbacks to using it in glass painting projects. Washable paint will wear off glass with time and handling, and if it gets wet it will wash away. Take precautions to make your washable paint artwork more durable on glass objects.
Things You'll Need
Glassware
Soap and water
Rubbing alcohol
Paper towels
Washable paint
Glass and tile medium
Mixing container
Mixing stick
Paintbrush
Spray varnish
Wash the glassware thoroughly with soap and water. The paint will not stick if there is dirt or skin oil on the glass surface.
Rinse the glass well and dry it completely.
Wipe the glass down with a paper towel dipped in rubbing alcohol. Wipe the surface again with a plain paper towel to ensure that the surface is completely dry.
Paint a base coat of glass and tile medium over the area of the glassware you are going to decorate. This will help the paint to adhere to the surface and make your design more permanent. Allow the base coat to dry for at least one hour.
Place a dab of washable paint about the size of a quarter in a mixing cup and blend in three or four drops of glass and tile medium with a mixing stick. This makes the washable paint more durable on the glass. Mix only the amount of paint you will use immediately, so that it does not dry out.
Paint your design on the area of the glass primed with the glass and tile medium. Be sure to let the paint dry completely between coats.
Allow the entire project to dry thoroughly, for a minimum of one hour or overnight, when your design is done.
Spray the entire painted surface with spray varnish to seal the project. Spray lightly and quickly so that the varnish does not saturate the paint. An overly heavy layer of varnish may run and mar your design.