For quick, comfortable Halloween costume for kids or adults, this teddy bear costume could be just the thing. With minimal sewing skills, a trip to a novelty shop, and through your own closet, you can be a cute, funny teddy bear in the a matter of minutes. You can dress up your teddy bear costume with a t-shirt, a vest or a hat.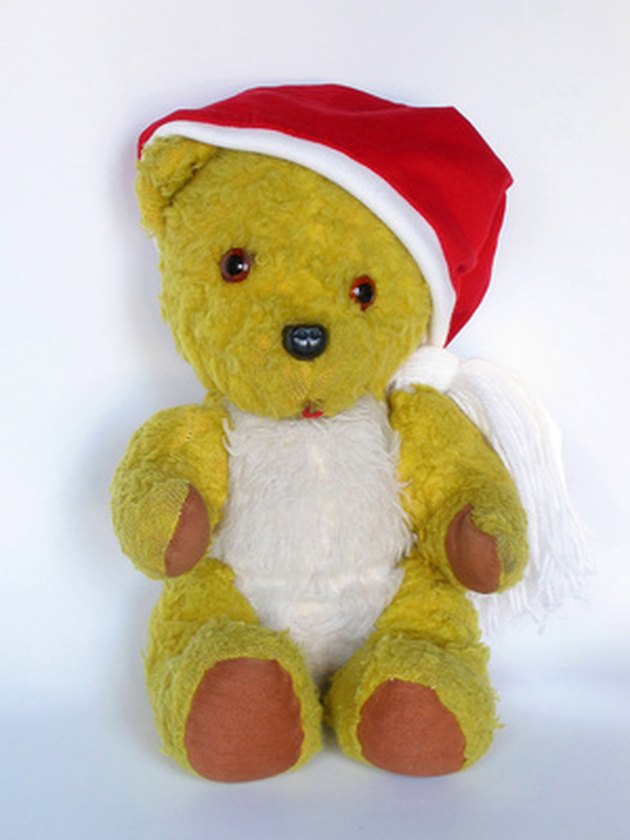 Things You'll Need
Brown fleece sweat pants

Brown hooded fleece sweat shirt

Brown pompom

Glue gun and glue

Tan felt about the size of the front of your sweat shirt

8-by-10 inch piece of tan felt about

Brown socks or fuzzy slippers

Brown mittens

Scissors

8-by-8 inch piece of stiff cardboard

Red face paint

Brown fabric marker

Plastic headband

Needle and thread

2-inch ribbon long enough to tie around neck in a bow
Body
Step 1
With a fabric marker, draw an oval on the tan felt that is big enough to cover most of the front of shirt.
Step 2
Cut oval out and glue to front of shirt. Save scrap pieces for ears.
Step 3
Glue pompom to back of sweat pants for the teddy bear's tail.
Ears
Step 1
Draw ears onto card board. Add an inch-wide tab at base of ears. Cut them out.
Step 2
Use cardboard ears as pattern to make six felt ears; four brown and two tan. Cut them out
Step 3
Glue brown felt ears to one side of cardboard ear and tan on the other side. Draw a smaller ear shape onto other two brown felt ears. Cut the smaller ear out. Glue outer circle onto the tan side of ear, so you have brown on the outside and tan on the inside.
Step 4
Fold bottom inch of ear, making a tab. Glue tab to head band.
Step 5
Cut slits in top of sweat shirt hood where the bear's ears should be. Insert the ears through slits in hood. Sew head band into hood.
Finishing Touches
Step 1
Tie a ribbon around neck in a bow .
Step 3
Put on brown socks and mittens for the teddy bear paws.