Things You'll Need
Fleece blanket

Tape measure

Scrap of coordinating fleece

Scissors

Pins

Sewing machine

Matching thread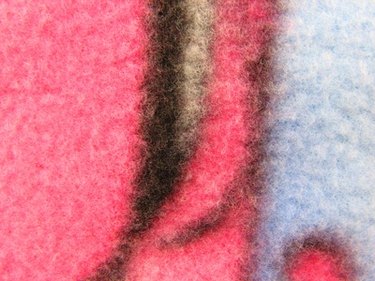 A quillow can provide a comfortable pillow and a warm blanket, depending upon how you use it. When you fold up the blanket fabric of a quillow and insert it into the quillow pocket, it becomes a fluffy pillow. When you untuck the fabric from the pocket and spread it out wide, it becomes a warm blanket. Make a quillow from a fleece blanket.
Step 1
Spread your fleece blanket out flat onto a work surface. Determine the dimensions of the blanket with a tape measure and write them down.
Step 2
Figure the size of the quillow pocket based on the dimensions of your fleece blanket. Make the fleece pocket one-third of the width of the blanket, plus 2 inches and one-fourth of the length of the blanket, plus 2 inches.
Step 3
Cut the pillow piece from the coordinating fleece, making it the dimensions you just determined.
Step 4
Position the pillow piece onto the fleece blanket along one width edge with the wrong side of the pillow piece facing up and the right side of the blanket facing up. Match the center of the pillow piece with the center of the fleece blanket; pin the two fabrics together at this point. Line up the edges of the fabrics.
Step 5
Pin the pillow piece to the blanket along three edges—the outside edge and the two side edges. Leave the inner edge open to create a pocket for later stuffing the fleece blanket inside.
Step 6
Stitch the pillow piece to the blanket along the pinned edges, using a wide zigzag stitch. Remove the pins.
Step 7
Turn over the blanket, or quillow, so the pillow piece is on the bottom. Straighten the blanket neatly. Fold the blanket in thirds, with both side edges folded over the pillow stitching. Fold the bottom of the blanket up in quarters, and turn the quillow over after the folds of the blanket reach the pillow stitching. Insert the folded blanket into the pillow pocket to make the quillow into a pillow. Unfold the blanket from the pillow pocket to make the quillow into a blanket.
Tip
It is not necessary to turn under the raw edge of fleece fabric—you can stitch the pillow piece directly onto the fleece blanket without turning under the edges of the pillow piece.