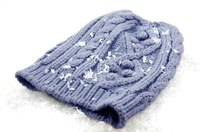 A hand-knit gift is both unique and special, telling the recipient that you cared enough to make something just for him. Knit hats are both cozy and fashionable on bitter winter days. They come in many styles, colors and patterns. Tams, or tam o' shanters as they are also called, are a flat version of the watch cap. A tam is versatile and can be crafted as wide and deep as you prefer. Larger tams allow the wearer to tuck his hair under the hat and are often worn by people with dread locks.
Things You'll Need
4 oz. worsted weight yarn
24-inch circular needles, size 5
24-inch circular needles, size 7
4 double point needles, size 7
Tapestry needle
Cast on 96 stitches with the size 5 circular needle. Join work, being careful not to twist. Place a marker to indicate beginning of row.
Work in knit one purl one rib for 2 inches.
Increase 48 stitches evenly all the way around on the next row.
Change to size 7 needles and knit for 5 inches in stockinette stitch. Because you are knitting in the round, you will produce the stockinette stitch just by knitting each row.
Decrease for the top. Round 1: K16, k2 tog (together). Round 2 (and for all even rows), knit. Round 3: K15, k2 tog. Repeat these two rows, decreasing on the odd-numbered rows until there are 16 stitches remaining. Switch to double-pointed needles when you can no longer stretch the stitches around the circular needle.
Cut the yarn, leaving an eighteen inch tail. Using a tapestry needle, weave the tail through the remaining stitches, pull tight and secure.