Prevention is the best way to care for your sheepskin boots, according to Ugg Australia's website. But even if you have applied a repellent, your boots can get stains from normal wear. Fortunately, Ugg also gives some practical advice for cleaning your boots once the inevitable happens. This may seem counter intuitive, but to remove water stains you will have to wet your entire boot.
Things You'll Need
Water

Detergent

Soft cloths

Newspapers

Suede brush
Step 1
Gently wet the surface of your entire boot. Do not soak your boots or submerge them in water. Simply wet the exterior.
Step 2
Gently scrub your boots using a mild detergent such as wool cleaner. Pay particular attention to the stained areas. Use extra pressure to clean the stained areas but do not scrub harshly. Once you are done scrubbing, use a clean damp cloth to wipe off any detergent that remains on the surface of the boots.
Step 3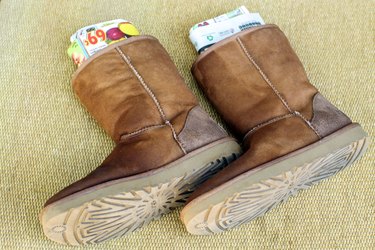 Stuff your boots with newspaper and let them air dry for 12 to 16 hours. Don't be concerned about how your boots look after they've dried. They won't look the same as they did before, but you'll get them back to looking right in the next step.
Step 4
Brush your boots gently using a suede brush. This will raise the nap of the sheepskin and restore the texture of your boots. Once your boots are clean and dry, apply a repellent to help prevent new stains.
Tip
Ugg Australia sells a care kit that includes its own branded cleaner and conditioner, water and stain repellent, a freshener, a suede brush and a scuff eraser.