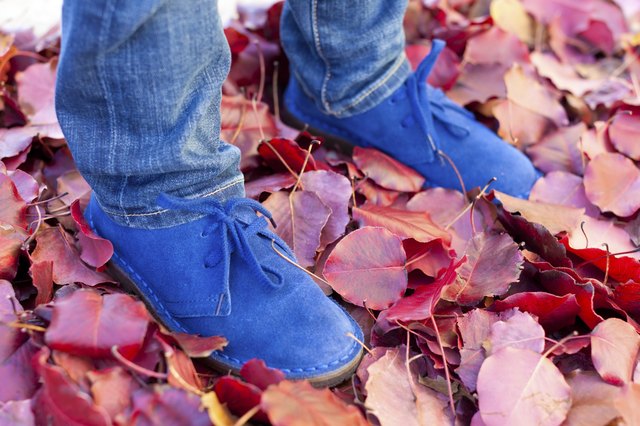 Despite your best attempts to keep it clean, suede shoes, boots, bags and clothing will get dirty. Suede should never be washed, but only spot cleaned. Optimal suede care begins with a suede eraser -- or use a kneadable eraser that's found in art stores -- and a suede brush or clean toothbrush. If you have a suede garment that needs a full refreshing, you're best taking it to a leather and suede care professional.
Spot Cleaning
Allow any wet stain to dry and then gently rub with the suede or art eraser to remove it. Don't rub too hard or you could permanently wear away the nap, or raised texture, of the fabric. Once the stain, mud or dirt are erased, take the suede brush or clean toothbrush and brush gently so the nap blends with the rest of the garment. Oily stains may be treated with an absorbent powder, such as cornstarch or baby powder. After sprinkling the damaged area, let it sit for several hours. Use the brush to wipe away any excess powder and to restore the nap.
Water Marks
Plain water can cause suede to darken and develop permanent water marks if not treated properly. If the suede has gotten wet, dab the damp area firmly with a paper towel to absorb excess moisture. For items that are soaked, give them a chance to dry completely for about 24 hours. A suede eraser, or even a slightly damp kitchen sponge, will help you feather the edges of water marks so that you can then refresh the nap with a suede brush or toothbrush. Help suede hats, bags and boots keep their shape by stuffing them with newspaper as they dry. Do not attempt to hasten drying by using a hairdryer; heat destroys suede's natural luster.