Things You'll Need
Screwdriver

Sewing machine oil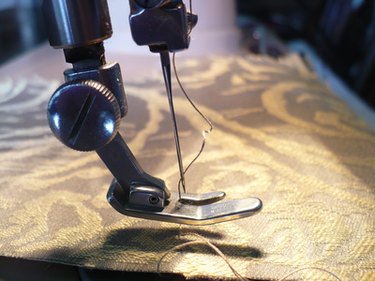 Janome sewing machines need to be maintained properly to extend the life of the machine and ensure that the machine operates properly for years to come. While regular cleaning is usually enough to maintain your sewing machine, Janome recommends oiling the machine at least once a year. Use a good quality lubricant specifically designed for use in sewing machines to avoid over lubricating or leaving stains on your sewing projects.
Step 1
Remove the screw from the top of the Janome face plate with a small flathead screwdriver. The face plate is on the top of the sewing machine directly above the needle.
Step 2
Pull the face plate up and away from the sewing machine gently.
Step 3
Face the sewing machine as if you were about to start sewing.
Step 4
Locate a small cylinder attached to the side of the sewing machine facing you that had been covered by the face plate. Apply one or two drops of oil to the top of this cylinder.
Step 5
Locate a small square that is directly above the needle of the machine, also previous hidden by the face plate. Apply one or two drops of oil directly above and below this square.
Step 6
Replace the face plate and tighten the screw.
Step 7
Open the hook cover of the sewing machine as if you were changing the bobbin. This area is located directly under the needle.
Step 8
Remove the bobbin case by grasping the lever on the case and gently pulling the case out from the machine.
Step 9
Remove the hook ring and the hook. These two parts are behind the bobbin case and should come out easily.
Step 10
Apply one drop of oil to the center of the hole the bobbin was removed from.
Step 11
Replace all of the parts you removed from the sewing machine.