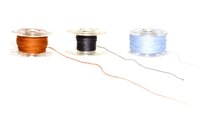 The Dressmaker II is not made by the sewing machine manufacture Dressmaker. This mini sewing machine is manufactured by Euro-Pro and is called the Euro-Pro Dressmaker II 1100. Typically sold for under $50, the Dressmaker II is an affordable start-up machine for beginner sewers and those working on small projects such as hem alterations and curtains. Many complaints have surfaced concerning this mini sewing machine from bunching of thread to difficulty understanding the owner's manual. Understanding the owner's manual is probably a concern for many beginning sewers who do not know how to thread a sewing machine or even wind the bobbin.
Things You'll Need
Thread nippers or fabric shears
Place empty bobbin on the short spool pin located at the top-rear of the machine.

Extend large spool pin by pulling it upward until it can't extend any further. Place spool of thread on the pin.

Take thread from the spool of thread and wrap it around the bobbin in a counter-clockwise direction five to seven times.
Depress the power switch to begin winding thread around the bobbin. Place your index finger under the thread and your middle finger above it to guide the thread to ensure the bobbin is evenly filled.
Press the power switch to stop winding the bobbin once it is full.
Hold thread and cut it close to the large spool of thread. Remove the large spool of thread from large spool pin and bobbin from the small spool pin.