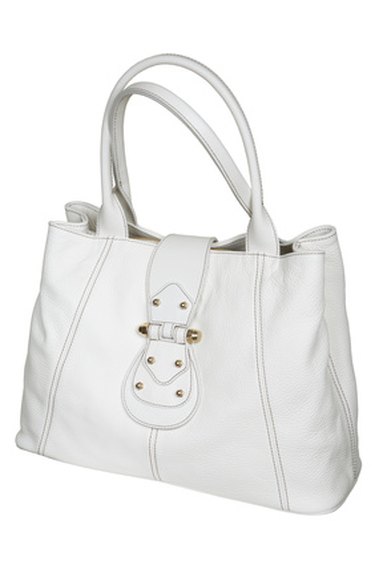 White leather products look clean at the outset, but even with the gentlest wear and tear they can begin to look dingy and turn shades of gray or yellow, not to mention showing every minor stain and scuff. Whether you're cleaning golf shoes or bringing a white leather bag back to life, with the proper care and maintenance you can keep your white leather products looking like new for the longest time possible.
Things You'll Need
Micro-scrubbing sponge

White leather cleaner

Soft-bristle toothbrush

Cotton swab

Rubbing alcohol

White shoe polish

Toothpick

2 soft cloth rags

Leather conditioner
Step 1
Remove any scuff marks by rubbing leather with a micro-scrubbing sponge such as the Mr. Clean Magic Eraser. Rinse sponge clean, apply a white leather cleaner, and buff leather in small circles to clean and remove overall discoloration.
Step 2
Remove stains by gently scrubbing them with a soft-bristle toothbrush and a dab of leather cleaner. Very small stains can be removed with a cotton swab soaked in rubbing alcohol or nail polish remover. Camouflage any remaining fine stains such as ink-pen marks or cracks in the leather by applying a white shoe polish gently with a toothpick directly over the stain and allowing to dry.
Step 3
Dampen a soft rag, and apply a leather conditioner. Buff the leather using small circular movements. Allow conditioner to set for 20 minutes to an hour, and wipe conditioner off with a dry soft rag. Repeat process if necessary.
Tip
Dampening a cloth before adding the leather conditioner allows you to do a thinner application of the conditioner.
Warning
Always test products in an inconspicuous place before applying them to your entire leather good. Chemicals such as rubbing alcohol, nail polish remover and even leather cleaner and conditioner can cause discoloration if the leather has not been treated.