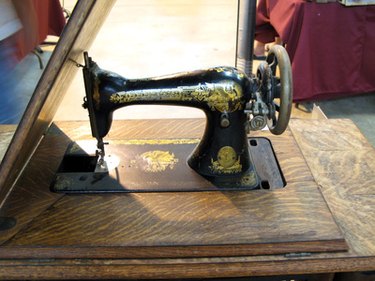 In 1851, Issac Singer introduced the world to the first sewing machine for home use, according to ideafinder.com. Soon after, a slew of different machines hit the market, and by the turn of the century electrically powered machines were commonplace in American households. Today, antique sewing machines are rare and can be worth a lot of money to the right collector.
Step 1
Look in the phone book for antiques dealers in your area. Call and ask if they have someone on staff who is knowledgeable about sewing machines. Take your machine in so the shop can verify its condition. If the antique dealer cannot help you, he may recommend someone who can or provide you with information about upcoming antique fairs in your area where you will find many experts on sewing machines.
Step 2
Check online auction sites to see the selling rate of sewing machines similar to yours. Read item descriptions to determine if your machine is in similar condition as the one listed. Look at the bidding history to see what the starting price was and how much action the sewing machine received. This will give you a rough estimate of what you can get for your machine.
Step 3
Head to the library and look at antique books. Kovel's is a respected guide that can offer you guidance in your quest. Kovel's website (a link is provided in the Resource section) also offers directories of appraisers, clubs, publications and auction houses.
Step 4
Take your machine to a pawn shop. Larger cities have shops that are knowledgeable of antiques and collectibles. They can give you an idea of the cash value of the machine, although they will offer you less than for what you can sell it.
Step 5
Stop by a quilt shop. The owner is usually a lifelong quilter and will have seen many different machines. Ask her to take a look at your sewing machine. She herself may be a collector or know someone who is.
Tip
Shop around for the best offer for your machine.
Warning
Always exercise caution when handling heavy machinery.