Things You'll Need
Embroidery machine

Embroidery design file

Nylon jacket

Medium-weight cutaway stabilizer or sticky-back stabilizer

Temporary spray adhesive

Double-sided tape

Rubber shelf liner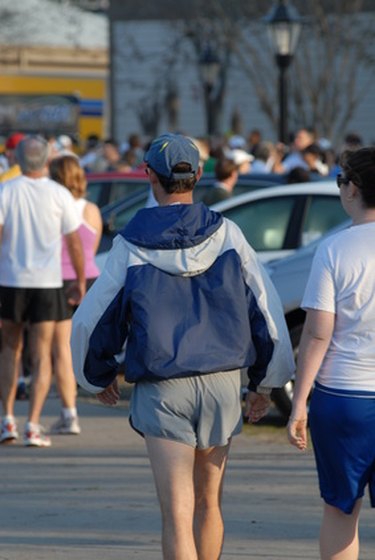 Nylon is an inexpensive fabric that is strong, lightweight and doesn't absorb water. This makes it ideal for jackets and outerwear. A name or a school or company logo embroidered on a windbreaker or nylon jacket looks great, but nylon is trickier than some fabrics to embroider. Because nylon is extremely thin and slippery, it requires special care when hooping to avoid puckering in the finished product. Dense, stitch-filled designs do not work well on nylon, but text or designs with a light fill are ideal.
Step 1
Cut a piece of medium-weight cutaway stabilizer or sticky-back stabilizer a couple of inches larger than your embroidery hoop.
Step 2
Adhere the stabilizer to the back of the nylon to be embroidered. If you're using regular cutaway stabilizer, use temporary spray adhesive to attach the stabilizer to the fabric. This will help keep the fabric from slipping during embroidery.
Step 3
Apply strips of double-sided tape to the bottom of your inner hoop along all four sides. Leave the corners open.
Step 4
Attach strips of rubber shelf liner to the tape on the embroidery hoop. This will hold the nylon in the hoop tighter and prevent slipping during stitching.
Step 5
Lay the nylon on top of the outer hoop and press the inner hoop into place. Tighten the screw until the fabric/stabilizer combo is secure.
Step 6
Attach the hoop to the embroidery machine and stitch out the design.
Step 7
Snip any thread jumps and trim the stabilizer to within 1/4 inch of the stitches.
Tip
Choose designs with fewer stitches to reduce the chance of the nylon slipping in the hoop. Use the smallest hoop that will fit the design. Use a new needle to reduce the strain on the fabric during stitching.