Boys and girls alike love to play with castles. Playing with toy knights and horses transports children to another world and encourages their imagination. Your child can use his collection of plastic knights and horses with the foam board castle tower described here. Foam board works well for a toy castle because of its durability. Put your child's creativity to use and let him create his own design for a foam board castle, or start with the following suggestions and add your own details.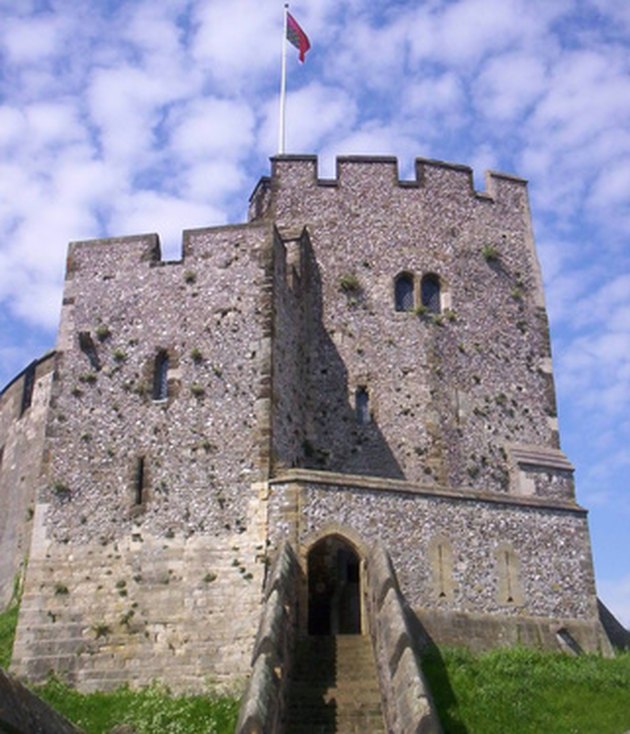 Things You'll Need
Ruler

Pencil

Sharp craft knife

2 pieces of standard 20 x 30-inch white foam board

Paper

Scissors

Mailing tape

Craft sticks
Step 1
Cut a 4-inch strip off the end of each 20 x 30-inch piece of foam board, and set the pieces aside. This leaves you with two 20 x 26-inch pieces. Cut each piece of foam board in half so that you have four 13 x 20-inch pieces. The four pieces will make a castle tower 20 inches high by 13 inches wide.
Step 2
Give the tower a crenellated look by cutting 1-inch squares along the top of each wall. Allow 1 inch between crenellations so that you have 1 inch of foam board, then a 1-inch space, and then 1 inch of foam board. Continue this pattern to the end of each piece.
Step 3
Add an arched entrance on one wall. To make the door, fold a piece of paper in half. Draw a straight line, rounding it near the top to form an arch. Cut it out and unfold the paper. Trace the arched doorway on foam board, using a craft knife to cut out the door. Either discard the door or cut it in half and attach each half to the door frame with mailing tape.
Step 4
Cut rectangles 1 inch wide by 2 inches high where you want your windows to be. Leave room for the parapet, which will be a few inches from the top of the walls.
Step 5
Take the 4-inch pieces set aside earlier. These will form parapets on the inside walls for knights to stand on to protect the castle. Add the parapets near the top of each wall. Test their height by making sure that your knights can see between the crenellations while standing on the parapets. Cut 12 angled supports from craft sticks to support the parapets (3 for each wall). The supports fit diagonally to the wall under the parapet.
Step 6
Glue the craft sticks in place on the walls with craft glue. Let them dry for 30 minutes. Then set the parapets on top, gluing them to the supports. Set them aside to dry for 30 minutes.
Step 7
Use mailing tape to join the inside walls near the top and bottom of each corner.
Tip
Enlarge your castle by making additional rooms in different sizes. If you choose not to add the parapets, leave one end of the tower untaped so that you can fold up the tower after playing. To make a Western fort, leave the top edges flat rather than crenellated, color the outer walls to look like wood, and add an American flag on top.