Things You'll Need
Shallow baking pan

Metal cooling rack

Leftover fried shrimp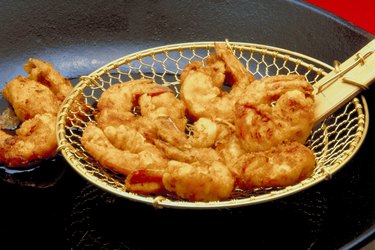 Even the best fried shrimp becomes soggy when reheated in the microwave. Microwaves steam food rather than heating it from the outside, resulting in damp breading, which falls off the shrimp. You can save your fried shrimp from the garbage by properly reheating it in the oven. Your secret weapon: a cooling rack used during cooking rather than after. Done right, you get crispy, crunchy shrimp heated completely through and ready for your choice of cocktail or tartar sauce. This also works for any other leftover fried foods: French fries, hushpuppies, chicken nuggets, fried fish and onion rings.
Step 1
Preheat the oven to 350 degrees Fahrenheit for 15 minutes.
Step 2
Set the cooling rack across the baking pan to suspend it.
Step 3
Lay the fried shrimp on top of the cooling rack, and place the baking pan and cooling rack combination the oven.
Step 4
Heat the fried shrimp at 350 degrees Fahrenheit for 15 minutes or until golden brown and heated through.
Step 5
Remove the baking pan from the oven and leave the shrimp on the cooling rack for five minutes to cool slightly before serving.