Things You'll Need
Paper-cutting templates

Typing paper or card stock

Scissors

Pencil or chalk

Self-healing cutting board (optional)

Swivel-tip craft knife (optional)

Paper in a contrasting color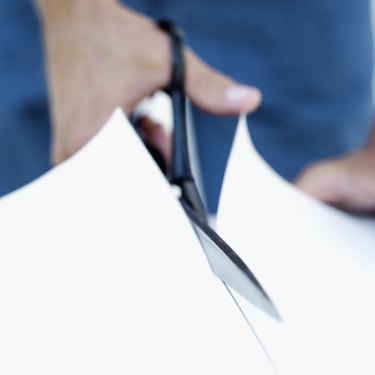 Paper-cutting arts have been around as long as paper. Different cultures have different names for it, and different styles of execution. In Northern Europe, it is called scherenschnitte. German for "scissor cuts," it involves cutting symmetrical shapes or silhouettes out of paper and displaying them against lighter or darker color paper for contrast. Scherenschnitte is easier to do than it is to pronounce, so it can be an enjoyable craft for children and adult paper crafters who like to scrapbook and make cards and other paper creations. With practice, a skilled paper-cutting artist can make elaborate designs.
Step 1
Choose paper-cutting templates you like. They can be found in books, paper-craft magazines, by searching the Internet or you can make them yourself. Look for images and designs with an outline or a shape that you like, such as images in magazines, coloring books, on the cover of greeting cards or in clip art on your computer. Make a copy of shapes you like, print them and cut them out to use as a template. As a general rule of thumb, the fewer the lines and details, the easier the cutting will be.
Step 2
Fold a piece of typing paper or card stock in half. Lay the template onto the card stock along the folded edge so that when you finish the cutting, the image will be doubled and perfectly symmetrical.
Step 3
Trace the design lightly with a pencil. Light-colored pencils and chalk work well on dark-colored paper.
Step 4
Cut carefully along the lines of the image with scissors. Alternately, for more detailed designs, lay the paper or card stock on a self-healing cutting board and cut the design with a swivel-tip craft knife.
Step 5
Discard all the cut-out sections. Open the paper like a greeting card when you're finished cutting to reveal the design. Lay it on or paste it to a contrasting color of paper to bring out the design. Once you've learned how to cut designs, you can frame and display them, use them on home-made greeting cards or add them to scrapbook layouts.
Tip
Don't overwhelm yourself. Start with simple shapes, such as hearts and flowers. Work your way up to more detailed, intricate designs.
Save your templates; you can use them over and over again.
Some good color combinations are red and green for Christmas, red and white for Valentine's Day, or black and white for a classic, traditional look.
Look into paper cutting arts from other cultures for more ideas.
Warning
Always monitor children using scissors, and never allow young children to use razor-sharp craft knives.