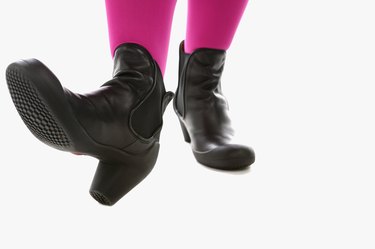 Uggs boots originated in Australia and New Zealand. They were originally popular because they are warm and comfortable. Not only do Uggs protect feet from the cold, they are breathable and comfortable for wearing in warmer weather. The inside of Ugg boots are made of wool. The original Uggs came in a tan color. However, there are now variations in different colors, including black. Some people complain the dye from black Uggs can stain your feet. It can be distressing to try to get the black dye out of your skin. The best way to stop Uggs from turning feet black is to prevent it from happening.
Things You'll Need
Paper towels

Water

Socks (optional)

Hair dryer (optional)
Instructions
Step 1
Dry your feet with a paper towel before wearing your Ugg boots. The combination of moisture and warmth may make the black dye turn your feet black. Avoid wearing them when you know you will be sweating profusely.
Step 2
Wipe the inside of the Ugg boots with a wet paper towel to remove excess dye that could potentially turn your feet black. It's particularly important to do this prior to wearing your boots for the first time.
Step 3
Apply warm water to a large paper towel. Don't make it soaking wet. Wipe the inside of the Ugg boots thoroughly with the wet paper towel.
Step 4
Wipe the inside of the Ugg boots with a dry paper towel. It's likely that you will need more than one to do this.
Step 5
Dry the inside as thoroughly as you can with the paper towels. If you are in a hurry, you can use a hair dryer on very low heat to dry them more quickly. Do not apply the heat for a long period of time. Make sure they Uggs dry thoroughly before wearing them.
Tip
Although Ugg boots are meant to be worn without socks, you can wear socks with them to avoid black feet.