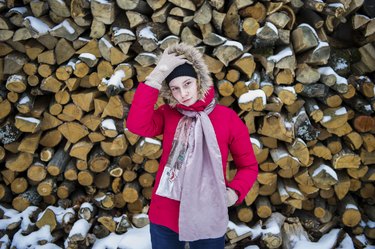 When the colder months arrive, sometimes the only thing that makes a morning commute bearable is a warm down jacket. Brands such as Eddie Bauer fabricate styles that are lightweight, yet packed with enough down to keep the chill at bay. They have a waterproof finish and a fleece lining, without appearing too bulky. After many rain storms, daily wear and maybe a coffee spill or two, your down coat will need a good cleaning. Wash an Eddie Bauer down coat at home and have it at the ready for the next wintry day.
Things You'll Need
Down detergent

Gentle detergent
Step 1
Use a down detergent in your washing machine. Down coats require down-specific detergent. Regular detergents will damage the feathers and cause them to lose their fluffiness.
Step 2
Remove the hood from the coat by unzipping the zipper found at the fold of the neck. Place the coat in the washing machine alone. Adjust the washing machine to the cold water, gentle setting, and allow it to run through the wash cycle once.
Step 3
Place the coat in the dryer, along with four clean tennis balls. Turn the dryer to the low heat setting and start. The tennis balls will help to fluff the down as it drys, preserving the jacket's original condition.
Step 4
Allow the dryer to run for 45 minutes, checking on the jacket every 10 minutes to ensure that it hasn't been flipped inside out.
Step 5
Wash the hood separately using a gentle detergent on the delicate cycle. Allow it to air dry to preserve the fabric.