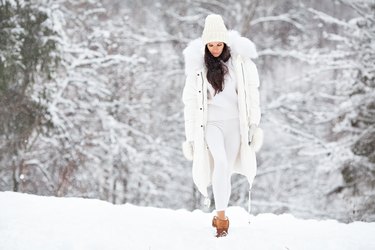 Eddie Bauer offers an extensive line of down coats for both women and men, such as the Eddie Bauer eb650, to keep you warm throughout the winter. Washing your gear is an important part of caring for the coat to ensure it lasts as long as possible, but you want to take care not to damage the down or the coat itself during the process. Follow the Eddie Bauer down jacket washing instructions on the tag of your coat.
Eddie Bauer Down Jacket Washing Instructions
Eddie Bauer down coats are easy to wash at home in your washing machine. In fact, Eddie Bauer warns against dry cleaning the jacket. Before you get started, empty the pockets and secure all zippers and closures. Wash the coat separately using only a mild detergent. Do not add fabric softeners or bleach to the wash. Set the machine to the delicate cycle and use cold water to wash and rinse the jacket.
When the cycle ends, make sure the detergent is fully rinsed from the coat. If necessary, do a second rinse. Then, remove the jacket from the machine right away and put it in the dryer with a clean tennis ball. Tumble dry on a low setting and remove it from the dryer as soon as it is dry. Don't hang dry the jacket or attempt to iron or steam the coat.
Down jackets are filled with duck or goose down feathers. The feathers in the jacket hold air pockets. The air is warmed by your body heat, and the down keeps in the warmth, making down one of the best insulators around. It is important to note that if down gets wet, it will no longer keep you warm, so look for a jacket that is water-resistant or ensure you wear the jacket under another waterproof layer. Be sure to consider other features, such as whether or not you want a hood and the availability of pockets
Two main things to consider when selecting a jacket include the fill power and temperature rating of the coat. The higher the down fill power, the less weight of down is needed to provide warmth. Fill power of 550 to 650 is considered very good, while a fill power of 700 or more is excellent. When shopping for an Eddie Bauer down jacket, check for these metrics. For example, the women's Downlight 2.0 hooded jacket has a fill power of 800 and is rated at -20 degrees Fahrenheit.
Down Jacket Considerations
Since down comes from animal feathers, it is important to select a jacket from a responsible and sustainable brand. All of Eddie Bauer's down products are 100 percent responsible down standard. With this certification, you can be assured that the animals are treated humanely. Eddie Bauer also uses recycled materials and has a goal to use 100 percent recycled materials, like nylon and cotton, by 2030.
Synthetic materials can also offer significant warmth and have the added benefit of not losing puffiness if you get stuck in the rain. Jackets with synthetic filling also tend to be less expensive and easier to launder compared to down jackets. However, down jackets are a better option for more insulation, and they will keep you comfortable in a wider range of temperatures. Down is lightweight and can pack smaller than synthetic jackets.