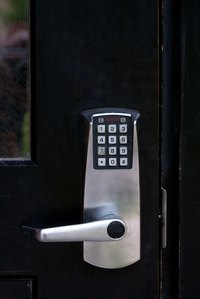 Schlage makes electronic locks, which are a step up from the security of a deadbolt lock. These locks provide access to people with the key but also include a keypad. Individuals with codes for unlocking the lock can enter their codes into the keypad and the lock will automatically release, allowing the user access into the house. However, you also can add a code to the lock in order to give access to someone such as a maid or a landlord to your house.
Enter the six-digit programming code found in your lock's manual into the lock's keypad.
Press the button located at the top of your lock.
Enter the new four-digit code you want to use.
Re-enter the four-digit code to confirm the code.