Things You'll Need
80-grit sandpaper

Wood stain

Paint brush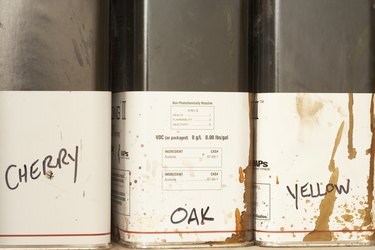 White cedar trees grow in the Northeastern part of North America. Their wood is renowned for its durability and also its beauty. White cedar lumber is rot-resistant, and the trees themselves are disease and insect resistant (insects don't like the strong aroma put out by the wood), which results in a higher-quality of lumber with fewer holes and a straighter grain. The wood is also a pleasing golden or pinkish-golden color after harvesting and gradually weathers to a silver color if left outside untreated. If you're looking for a particular color, however, white cedar stains readily and holds the stain for a long time.
Step 1
Sand all sides of the white cedar lumber with the 80-grit sandpaper to open the pores of the wood and allow more stain to get in.
Step 2
Thin the stain with water by about 10 percent (add 1 part water for every 10 parts stain). This will help the stain soak into the lumber better, since cedar is a naturally rot-resistant wood it doesn't soak up stain as readily as other domestic woods such as pine.
Step 3
Apply the stain with a brush, not a roller. This will help the stain soak into the cedar wood. Be sure to apply the stain to all sides of the lumber that will be exposed, as this creates an evenly absorbent surface. Some moisture will be absorbed as the lumber gets wet (this is OK), but if one part is stained and one part not, the unstained section will absorb water faster and the wood will warp, causing the stain to peel.
Step 4
Allow the stain to dry according to the manufacturer's instructions.
Warning
Do not use a water sealant on cedar, as this will cause the wood to decay much faster.