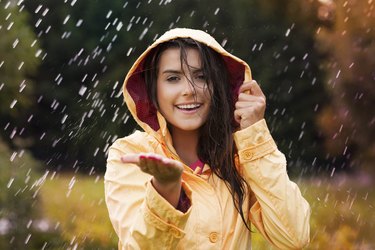 T-shirts and jeans are typically made of iron-friendly natural fabrics, but polyvinyl chloride -- dubbed PVC or just plain vinyl -- likely makes up your raincoat. Though durable, practical and cost-effective, vinyl is susceptible to cracking, peeling and, if exposed to the intense heat used to remove wrinkles from natural fibers, even melting. You still need a bit of warmth to work wrinkles out of your coat, but ironing a PVC rain jacket takes a bit of extra care, which comes chiefly in the form of a handy press cloth.
Things You'll Need
Clothes iron, with steam blast button

Distilled or filtered water

Ironing board

Cotton canvas press cloth
Step 1
Fill your iron with distilled or filter watered -- which cuts back on calcium buildup -- and set it to a low temperature with high steam. Steam distribution is key to de-wrinkling your raincoat, because it provides a gentle heat that won't deform the material.
Step 2
Spread the raincoat face down over an ironing board, so that the back faces up and the arms of the jacket drape down on either side of the board.
Step 3
Flatten a cotton canvas press cloth over the back surface of the coat. This heavy press cloth helps protect synthetic materials from heat damage. Press the cloth with the heated iron -- as you work, contact only the cloth with the iron, never the plastic jacket. Apply light pressure as you iron the cloth-protected coat, using steady, straight, top-to-bottom strokes.
Step 4
Press the iron's steam blast button and direct the jet of steam toward the press cloth, then apply pressure from the iron. The cloth helps distribute steam to the coat, which is necessary to work out tough wrinkles.
Step 5
Flip the coat over and close it at the front. Iron the front of the coat as you did the back, moving the press cloth down the surface of the garment as you work. After you've pressed the coat's front, flatten each sleeve on the board; iron the sleeves one at a time under the press cloth.
Tip
Hang your dry raincoat on a well-structured hanger in an airy, temperate location to help minimize wrinkles.
In a pinch, lie the wrinkly coat on a flat surface and carefully apply low heat from a hair dryer, smoothing the jacket out by hand.
If you can't track down a cotton canvas press cloth, use a cloth made of worsted wool instead. Like canvas, this sturdy cloth protects PVC, and wool is particularly effective at safely delivering steam from the iron to the garment.
For rain wear that resists wrinkles, choose a coat made of lightweight microfiber polyester.
Warning
Always read your raincoat's care label and follow any instructions or warnings provided by the manufacturer.