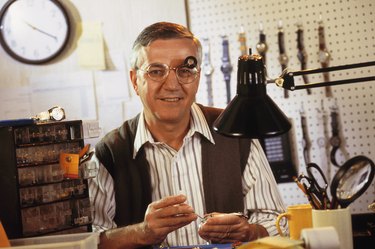 Many watches come with a removable and interchangeable bezel. The bezel is a small ring around the edge of the watch that helps to protect the watch face. The bezel protects by holding in place the clear crystal that keeps the watch face from being scratched or broken. These bezels can often be popped away from the watch face and replaced with a bezel of the same construction but with different design characteristics. Take care when removing the bezel, though, as bezels are kept in place with a tiny easy-to-lose spring.
Step 1
Place the edge of the electrical tape into the joint between the bezel and the body of the watch. Place this tape edge around the entire perimeter of the bezel. The tape will help to prevent you from damaging the watch case when prying off the bezel.
Step 2
Press the edge of a thinly-bladed knife into the joint between the bezel and the body of the watch at the point where the watch meets the wrist strap. Only insert enough to act as a pry for the ring. The wrist strap will add an extra surface area for prying up the ring.
Step 3
Wiggle the knife blade slightly to work the bezel from the body of the watch. As the bezel begins to rise, do the same to the other side of the ring. After a few wiggles, the bezel will make a slight popping sound, indicating that it's been released from the securing spring. Look around the edge of the watch and locate the small wire spring now sticking out from the side of the watch beneath the bezel. Make sure to keep track of the spring to prevent it from falling away from the watch body. Pull off the electrical tape.
Step 4
Pull up the bezel. Often there's an insert which can be slipped out from the bezel. The insert serves mainly as an adjustable time marker, to set the time for the beginning and end of dives in a diver's watch.