Things You'll Need
Yarn

Crochet hook

Pillow filler or stuffing

Large eye blunt needle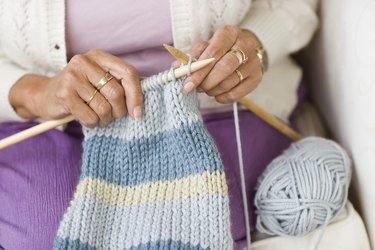 Use your crocheting skills to hook up a variety of home decor items. Watch as you transform your home from drab to fab using only your crochet hook, some yarn and a few other simple supplies. An easy place to start is to crochet chair pads for the hard wooden chairs in your home. Make these circular pads to fit any chair size, and customize the your yarn choices to match the color scheme in your home.
Step 1
Chain three, and make 11 double crochet stitches in the third chain from the hook. Join with a slip stitch to the second starting chain; this set of two chain stitches counts as your first double crochet stitch here and throughout. Now you have 12 double crochet stitches in a circular pattern.
Step 2
Increase your circle until it reaches the desired size for your chair pad. Because you started with 12 double crochet stitches, you will add 12 more to every round you crochet. For round two, make two double crochet stitches in every stitch around; now you will have a total of 24 stitches. For round three, make two double crochet stitches in every other stitch around for a total of 36; for round four, make two stitches in every third stitch around for a total of 48. Continue increasing in this manner until your circle is large enough to cover most of the surface of your chair seat.
Step 3
Finish off your circle by cutting the working yarn and making a slip stitch to join your final round. Make a second circle just like the first.
Step 4
Use a circular pillow filler to stuff your chair pad, or just stuff it with polyester fiberfill stuffing. Either method will work, but the pillow stuffer might be more evenly stuffed. To stuff your pillow, begin by using an extra length of yarn and a large eye blunt needle to whip stitch the two circles together, about 3/4 of the way around. Hold them with right sides together as you stitch, then turn them so the right sides face outward. Put the pillow filler or the stuffing through the hole you left open in the pillow seaming, then whipstitch the opening closed. Weave in your extra ends.
Step 5
Use your crochet hook to attach a length of yarn on the edge of the pillow. Make 25 chain stitches, then slip stitch back down those stitches until you get back to the body of the pillow. Slip stitch into the pillow's edging and then make another set of 25 chain stitches and slip stitch back down those. Slip stitch to attach to the pillow and fasten off. You have now made ties to attach the pillow to the chair. Repeat this process at another point along the pillow's circumference to attach it to the other side of the chair backing.
Tip
Use cotton yarn for this project to keep the chair pad looking new. Other fibers will felt together with wear, but the cotton will hold its shape well.