Things You'll Need
Paper

Pencil

Scissors

Straight pins

1 rectangle green felt, 9"x12"

1 rectangle pink, white or blue felt, 9"x12"

Needle

Coordinating thread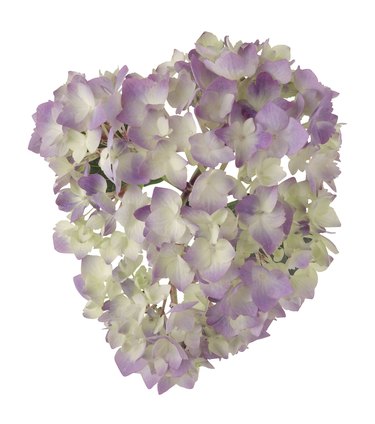 Making fabric hydrangea flowers is simple once you get the hang of the technique. Fabric hydrangea flowers can be used for many things, from hair findings to clothing embellishment. Fabric hydrangea flowers can also be used in home decoration and as table centerpieces. Making hydrangea flowers yourself is often less expensive than buying them and many find making fabric flowers relieves a bit of stress in their lives.
Step 1
Draw a tear-drop shape on a piece of paper measuring approximately one inch tall and one-half-inch wide as a pattern for hydrangea petals. Draw a leaf approximately two inches tall and one inch wide as a pattern for leaves. Cut both patterns out.
Step 2
Pin a petal pattern to felt fabric with a straight pin. Cut out the fabric with scissors. Repeat, six times for each flower. Depending on how many flowers you want in each hydrangea bunch, multiply the number of flowers by the number of petals. Using your petal pattern, cut that number of petals.
Step 3
Using your leaf pattern, cut one leaf for each flower in the hydrangea bunch, using the paper pattern.
Step 4
Lay your petals side by side on a flat surface, with all of the wide end bottoms lined up touching. Using your threaded needle, sew once in and once out each petal at the wide end, so the petals are all strung together on the thread. Pull the thread taut, gathering the flower petals together. Tie a knot at the end, so the petals form a flower. Cut the thread thread.
Step 5
Using coordinating thread, take one leaf and sew it to the bottom of the flower. Tie a knot to complete the first flower.
Step 6
Repeat steps 4 and 5 for each flower in the bunch.
Step 7
Using coordinating thread to match leaves, sew your finished flowers together forming a snowball shaped bunch for a completed hydrangea flower.
Tip
If you do not want hydrangea flower bunches but would rather use single flowers, you are done after step 6.
You can add as many as three leaves to each hydrangea flower, depending on your taste. Simply use the same pattern as the first leaf and sew the leaves on each flower separately.