The art of silent storytelling is a creative basis for a party or Halloween mime costume. Ideas for mime costumes include emulating famous mimes' or your favorite street busker's outfit. Black and white stripes, white, black or gray clothing, combined with white, black and red accessories and makeup make your outfit easily recognizable to viewers, both young and old. Just remember, stay in character – no talking!
No matter what mime outfit you choose, the makeup can make or break your costume. While some modern mimes don't use whiteface makeup, it is almost essential for Halloween and party costumes. The primary mime makeup ideas include stark white face with red lips and black eyeliner, mascara and brows to provide the blank slate needed to emphasize your facial expressions. However, if the face paints irritate your skin, skip them and just apply a bright red lipstick and black eye makeup.
Before applying makeup, wash and dry your face. Apply a primer to your face, allow to dry, then apply the white Halloween or clown makeup. Use a makeup sponge or brush to apply and even out the white makeup. Once the smooth white base is dry, apply a finishing powder to "set it."
Add red lipstick and black eyeliner or eye pencil. You can also use the eyeliner to "paint" on triangular eyebrows, tears and other decorative elements. At the end of the night, gently apply warm water and your favorite makeup remover or cold cream to wash off the face paint and makeup.
The classic mime outfit of Marcel Marceau and his character "Bip the Clown" is easy to replicate with a black and white striped cotton shirt covered by a gray low-cut, scoop neck shirt or sweater, preferably with three-quarter sleeves, and white capri-length pants. In cold weather, throw on a gray or black cape, sweater coat or trench coat so you don't freeze while you're out and about.
Another mime costume incorporates a black and white striped, three-quarter or long-sleeved T-shirt or sleeveless tank top, combined with a black jumpsuit or baggy pants. Don't limit your costume – if you only have a white or black button-up shirt, go ahead and wear it. You can accessorize with classic mime elements and make it work for your outfit.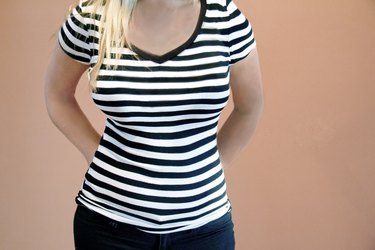 Accessories for the Well-Dressed Mime
Depending on your shirt color, put on red, black or white suspenders and, if wearing a button-up or button-down shirt, add a matching tie or bow tie. Top off your mime costume with a black or red beret or beanie. Alternately, put on a black derby or bowler hat and tuck or glue a red flower or pom-pom onto the mime hat band for a burst of color.
Add white gloves to emphasize your hands as you motion toward the trick or treat bag, mime eating or surprise, or say "I love you" or "trick or treat" in American Sign Language.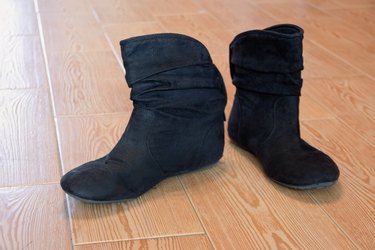 Comfortable shoes are essential – ballerina or flats are fine for indoor events but if you're pounding the pavement with the kids, wear sneakers or other comfortable shoes or boots. Two pairs of socks will keep your feet warm and dry even on the coldest night.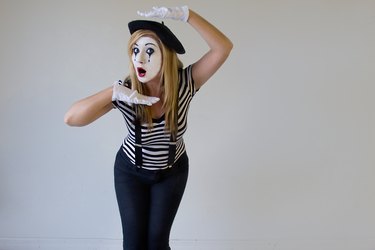 Carry a bouquet of red and white flowers. Silk or plastic works as well as real flowers without the risk of wilting, so you can present single blossoms or the whole bouquet with a flourish to a friend, lover or bystander. A wire leash, with or without a toy lizard or stuffed animal gives more opportunities for pantomime – your pet can "drag" you down the street or you can mime waiting patiently while your pet investigates a fire hydrant or tree.