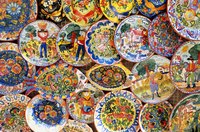 Custom-designed table settings are a great gift or a good way to make your kitchen reflect your personality. For a polished, professional final product, give your design to a company that will print it on the crockery of your choice—anything from a soup bowl to a plate to a teacup.
Design and Manufacture Melamine Dinnerware
Purchase a design-your-own-plate kit from a company like Creations by You.
Design your plate. Begin working with the materials provided in the kit, which may include such materials as a paper template and markers. You can use photos and text, too.
Mail your design back. When you've finished designing your plate, mail it back to the company from where you purchased the design. The manufacturer may offer you the option of having extra plates manufactured. You can also have your design printed on a ceramic or plastic mug.
Wait for the melamine plate with your design on it to be delivered. It could take up to several weeks for the finished product to arrive.
Design and Manufacture Porcelain or Bone China Dinnerware
Submit your dinnerware design. A manufacturing company like Enduring Images will reproduce your design on dinnerware you choose from its stock.
Send your crockery, too. If you want the design on crockery you already own, take or send in your crockery to the manufacturing company. First, though, make sure the company offers the option of printing the design on your own crockery rather than only their own.
Ask for help. If you're not confident in your drawing or designing abilities, ask for help from the company's designers. If your design will go on several different-shaped pieces of crockery—for example, a plate, a gravy boat and a milk jug—consider those shapes when choosing a design, and make sure it'll work on all of them.
Choose the type of dinnerware material you want your design printed on. Enduring Images offers a number of options, including porcelain and bone china.