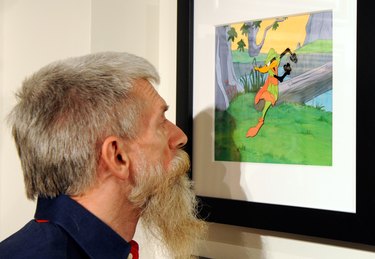 So you have an idea for a cartoon or comic. Unfortunately, in this day of giants like Marvel Comics and Disney, as well as established characters and authors, it's tricky to get into the cartoon business. But it's not impossible. Develop a strong idea, choose a format, canvass the publishing market for a publisher that fits your vision, and pitch, pitch, pitch. Publishers often have their submission guidelines posted online. Pitching outside of their regular submission process or topics is often a waste of time, so pitch carefully.
Step 1
Decide if you want to develop a single panel cartoon, a periodical cartoon (comic strip), cartoon (comic) book or moving picture cartoon. Each variation has different publishing channels.
Step 2
Choose a protagonist and the problems he will face. The cartoon might have topical, political or societal undertones or overtones. Determine the angle you'd like the cartoon to take or if it will be strictly for entertainment. Choose an age group to focus on. Children's cartoons tend to be simplified and purely for entertainment, whereas cartoons for adults tend to focus on a feature of human nature and can use more suggestive language or topics.
Step 3
Draw and write the cartoon or work with an artist to draw out your story. Have it edited by a friend or colleague. Then rework it.
Step 4
Scope out publishers for your cartoon. A single panel cartoon, depending on subject matter, might be right for your local newspaper or a regional magazine. A periodical cartoon strip also might be appropriate for newspaper publication. Contact your local newspaper or submit it to newspaper conglomerates like the Tribune Company or the New York Times Company. A cartoon book should be pitched to publishers like DC Comics or Manuscript Press. If your cartoon is of the moving-picture variety, pitch it to public access television or to your local network stations.
Step 5
Check out the Web sites of publishers to which you plan to pitch. They might accept open submissions or only from published authors. Read the submission guidelines carefully.
Step 6
Look into syndication. If your cartoon has the potential to see months or years of character complications and plot development, consider partnering with a syndicate. Submit to Creators Syndicate or King Features on their Web sites. Or self-syndicate, leaving more money in your pocket, using Syndicate Your Cartoon (syndicateyourcartoon.com). This website offers mass submissions to daily and weekly newspapers, alternative newspapers and college newspapers. All publications listed are open to submissions.
Step 7
Work with a media agent for representation for all publishers listed above. A locally-based agent has pull with local outlets like newspapers, magazines and television stations and can get you hooked up with events like book signings and cartoon expos or conventions.
Step 8
Consider publishing your cartoon in an anthology. Many local writers and publishers plan annual publishings of local artists' material. Talk with a media agent or your local Chamber of Commerce to see if there is an anthology in your area. You might also try more established anthologies like "An Anthology of Graphic Fiction, Cartoons and True Stories," published by the Yale University Press. An anthology might be a one-time publishing venture or it could be annual, like Yale's book.
Step 9
Self-publish. When all else fails, self-publish your cartoon. Work with an online publisher or make several copies at Kinko's. If you work with a print-on-demand online publisher, you can list your cartoon book for sale at sites like Amazon, which will handle the shipping for you or let you know where to ship. Send sample copies to comic reviewers or cartoon magazines to get the word out.
Tip
Keep pitching. Publishers might not always get back to you if they do not plan to pursue your cartoon further, so keep trying.