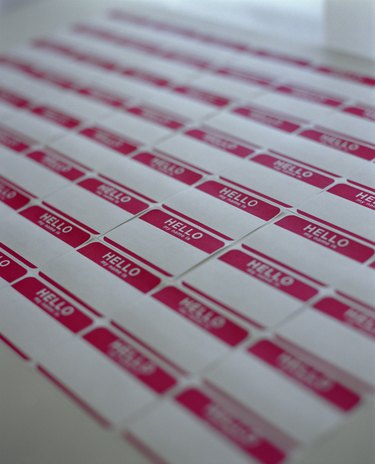 Planning your school reunion is a big task, and you want to make sure that you get all of the details right in order to create a successful event. One of these details is the class reunion welcome packet, which you'll give out to all reunion attendees. Whether your reunion is a full weekend or just a night, you should put together a welcome packet for a class reunion that is packed with helpful information.
Step 1
Research area businesses online for a visitor information section. Even though the reunion attendees once lived in the area, there may have been a lot of changes over the years. Local businesses may even be willing to offer coupons as a way to entice those attending the reunion to visit their businesses.
Step 2
Ask all class members to send a bit of information about themselves for a small book. Everyone wants to know what the other members of the class are up to. If you have the time, a willing committee and some funds available, send out a questionnaire to all class members asking about memories from school days and about their current lives. You can also ask people to send pictures. This is especially useful for class members who cannot attend but want to share about themselves, as well as for the attendees, who can catch up with those who couldn't make it to the reunion.
Step 3
Create name tags. It's hard to recognize some people after a few years. Be sure to include name tags that people can wear at the event. If married women have taken their husband's name, be sure to include the maiden name. You also may want to include the person's yearbook photo to help people recognize each other.
Step 4
Print a list of reunion activities. This should include the schedule of events so that attendees know where they should be and when. It's especially helpful when you have a complex list of activities that people can choose from.
Step 5
Include meal tickets, if appropriate. Some class reunions require individuals to pay for their own meals. Offering tickets to show who paid allows you to separate those who did and did not pay.