Things You'll Need
Letter stencils

Fabric pencil

Felt

Double-sided fusible interfacing

Sharp scissors

Iron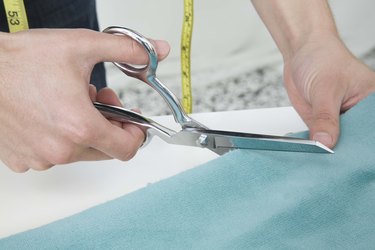 The days of laboriously stitching one felt letter at a time onto a banner or jacket are over. Fusible interfacing, a versatile iron-on adhesive available in most fabric stores, is commonly used to form a permanent bond between two pieces of fabric. With fusible interfacing, applying felt lettering to fabric is as simple as ironing a shirt. Easy to apply and even easier to adhere, fusible interfacing will end your felt lettering on fabric woes.
Step 1
Choose a letter stencil style to create your felt lettering. You can purchase lettering stencils, which come in a variety of sizes, at a craft store.
Step 2
Trace the letters onto the felt with the help of the stencils. Hold each stencil carefully in place as you run your fabric pencil around the perimeter.
Step 3
Apply the double-sided fusible interfacing to the back of the letters that you have traced, according to manufacturer's instructions. The double-sided fusible interfacing will form a strong bond between the felt letters and the fabric once you iron it.
Step 4
Use a pair of fabric scissors to cut out each individual letter. Neatness counts, so make sure that you cut along the lines that you traced or your lettering may not look perfect.
Step 5
Arrange the felt lettering on your piece of fabric. When you approve of the layout, remove the paper backing from the double-sided fusible interlacing and adhere each of the felt letters to the fabric.
Step 6
Plug in your iron and set it to the temperature suggested on the manufacturer's instructions for the fusible interlacing. Allow it to warm up to the appropriate setting and run the iron over the felt letters to create a permanent bond. Allow the felt lettering to cool.
Tip
If you're planning to remove the felt letters from the fabric, use a water-soluble glue stick instead.
There are several different types of fusible interlacing. For this project, double-sided fusible interfacing works best. One side will adhere to the felt lettering and the other side will make it possible to adhere the felt letters temporarily to the fabric before ironing.
Warning
Always unplug the iron after use to prevent burns and fires.
Make sure that you are happy with the placement of the lettering before you begin ironing. You cannot move the lettering once you have ironed it on.
Do not use fusible interfacing with metallic fabrics, beaded fabrics, sequined, re-embroidered, fake fur, vinyl, leather, lace, mesh, brocades, rayon or acetate velvets. These fabrics cannot handle the high heat requirements of the fusible interfacing.