Things You'll Need
Suspenders

Dress shirts

Ties

Suit jackets and pants

Brown or black leather shoes

Wigs

Hair straightener

Temporary hair dye

Masks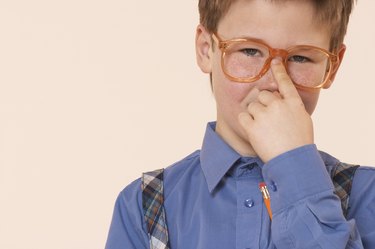 Dress up with two of your friends as the Three Stooges for a humorous group Halloween costume. You can gather most materials for these costumes by looking in your closet or at a thrift shop. To complete the look, you'll probably want to purchase wigs or masks at a costume shop. Curly, Larry and Moe masks are inexpensive and should be relatively easy to find.
Step 1
Wear suspenders and a tie over a dress shirt, and complete the outfit with suit jacket and pants. Wear this same outfit whether you're dressing as Curly, Larry or Moe. Don't worry if the suit doesn't quite fit you or if it is an odd or faded color; these features will contribute to the silly look of the costume.
Step 2
Wear a pair of brown or black leather work shoes on your feet. They should be a bit oversized to enhance your comedic appearance.
Step 3
Complete the Moe costume with flat, dark brown hair. Straighten your hair and use dark brown hair spray or temporary dye to color your hair if you don't want to buy a wig.
Step 4
Complete the Larry costume with a dark brown, bald top clown wig or a wig designed specifically for a Larry costume.
Step 5
Shave your head to complete the Curly costume if you're willing to commit to this look, or simply purchase a bald top headpiece from a costume store.
Tip
Watch Three Stooges DVDs with your friends and notice any mannerisms or habits your character has. Practice talking like your characters; active impersonation will be an important part of your costume.
If you have a fourth member in your group, dress him as Shemp. In addition to a suit, he should slick his hair and part it right down the center. Then add a fedora.
Try crafting your own suspenders from wide, colorful elastic.