Things You'll Need
Heavy-duty needles

Heavy-duty thread

Teflon presser foot

Tissue paper

Silicone spray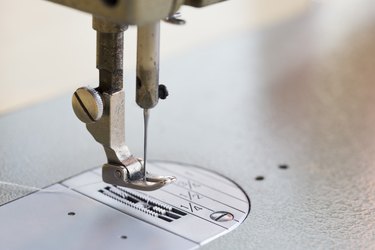 Sewing rubber can be an enjoyable way to recycle unwanted materials, but it requires different techniques than standard woven fabrics. An industrial grade sewing machine work best for handling thick material like rubber. However, you can also take simple steps to use your home machine if industrial equipment is out of reach, such as fitting it with large needles, special threads and presser feet.
Step 1
Use heavy-duty sewing machine needles. Size 16 or 18 will work best; size 14 is minimum. Needles for sewing denim, leather or other heavy fabric are ideal. Heavy-duty thread is necessary to hold rubber together. Thin, cotton thread is not strong enough to hold rubber seams.
Step 2
Attach a Teflon presser foot to the sewing machine. Rubber is extremely smooth and nonporous, the same as standard metal sewing machine foots. The two materials will stick together and cause your sewing machine to jam. Teflon is coated to be nonstick and will allow the rubber to glide easily as you sew.
Step 3
Line the top of the rubber with tissue paper or newsprint prior to sewing if you do not have access to a Teflon presser foot. This will prevent rubber from sticking to the sewing machine. The tissue will become perforated while sewing and easily tear off.
Step 4
Spray rubber with a silicone-based product so rubber will slide through the machine foot and treads. This also keeps the needle lubricated for easy sewing.
Step 5
Check your sewing machine manual for the correct presser foot tension. Depending on the thickness of the rubber, you may need to change the settings on your machine.
Tip
Thin rubber will work best for sewing. Change needles often as they tend to dull on thick materials like rubber.
Local bike stores and recycling sites may have scrap rubber they can sell you at discount prices or even give you for free.
Make handbags, messenger bags and gift bags out of colorful rubber inner tubes. Be sure to cut the tubes lengthwise along the inside curve first to help them lie flat when sewing.
Warning
Always use caution and follow instructions when operating a sewing machine.