Things You'll Need
Fabric shapes or letters

Poster board

Rubber cement or school glue

Glitter glue or squeezable paints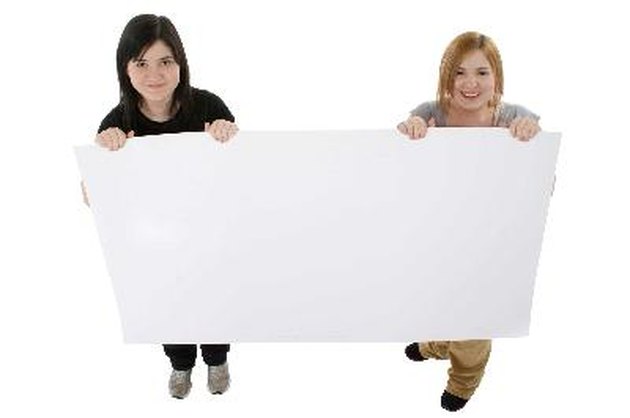 Poster board has so many functions: school projects, business displays and craft presentations. The purposes are as varied as the colors and sizes of poster board available. Poster board can be used in conjunction with adhesive letters, paints and also fabrics. Use material on poster board by adhering with school glue or rubber cement. Depending on your poster board project, you can outline fabric shapes or letters with glitter glue or puffy paints for embellishment and emphasis.
Step 1
Place the poster board on a flat surface suitable to crafting or working on potentially messy projects.
Step 2
Glue the desired fabric shapes or letters to your poster board according to the project you are creating by using school glue or rubber cement. Dribble school glue onto the backside of the material and spread the glue with your fingers to approximately 1/4-inch from the outside edges of the material shape/letter. Rubber cement jars come with a handy brush attached to the lid so you can brush the rubber cement directly onto the back surface of the fabric.
Step 3
Press the material firmly onto the poster board with your hand, smoothing the fabric shapes/letters from the center out toward the edges for both types of glue.
Step 4
Outline the adhered material shapes and letters with glitter glue or paints in squeezable tubes by squeezing the tube and drawing or outlining each shape and/or fabric letter. Be careful to apply even pressure to the tube and not squeeze too hard too quickly or you may end up with a big glob of paint/glue along your outline. It's better to have too little applied than too much. You can always go back and add more to the thickness of the outline if necessary.
Step 5
Allow the material adhesive and outlining medium to thoroughly air dry before handling or moving the poster board project.
Tip
Many types of glue are good for adhering material to poster board. Fabric glues and spray adhesives work well too. Some glue sticks work well but have a tendency to lose their stickiness after some time has passed. There are many types of rubber cement glues too. Some rubber cement glues are not suitable for children. Always read the label of the brand you are purchasing before allowing children to use the product unsupervised. Both rubber cement and common school glue will wash out of clothing in the washing machine.
Warning
Rubber cement is highly flammable and should not be used near open flames. Rubber cement should not be inhaled, as inhalation of rubber cement can be harmful to your mucous membranes.