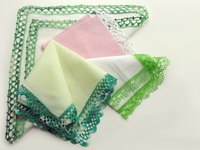 Long before mass-produced Christmas ornaments were available, handmade handkerchief angels adorned Christmas trees worldwide. Today, you'll find many homes decorated for the holidays in a vintage theme. Recreating handkerchief angels is a perfect way to add a vintage feel to your holiday home. Making your own handkerchief angels allows you to personalize your Christmas decorations, plus they are incredibly inexpensive and easy to make -- so easy, even your kids can help.
Things You'll Need
Lay the handkerchief flat on a table and place a cotton ball directly in the middle of it.
Gather the handkerchief around the cotton ball. Cut a piece of ribbon 4 inches long and tie it around the handkerchief underneath the cotton ball to form the angel's head.
Pick up two opposite corners of the handkerchief and bring them around to the back of the angel. Use a 4-inch piece of ribbon to tie the corners together in the back to form the wings.
Cut a piece of ribbon 5 inches long and tie it to the top of the angel's head to form a halo.