Things You'll Need
Tape measure

Fabric

Scissors

Sewing machine

Thread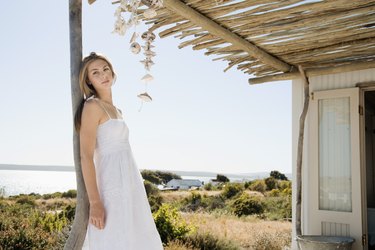 Although smocking seems intricate and complicated, it can be surprisingly simple. Smocking is a sewing technique that gathers fabric tightly in multiple horizontal sewing lines. When you smock fabric tightly in this fashion, you will need more fabric to sew garments. If you want to make a smocked sundress, you must determine how much fabric you will need to create the smocked sewing technique before you start your sewing project.
Step 1
Measure the upper chest measurement of the person for whom you are making the sundress. This will be the length of smocked fabric you need to make the sundress.
Step 2
Make a sample of smocking on a 6-inch square of fabric. Create the same smocking technique on the square of fabric that you will use on the sundress. This typically involves approximately six lines of smocking.
Step 3
Measure the square of fabric along the smocked edge after you smock it. Expect that the smocked edge will be as much as one-half to two-thirds smaller than the unsmocked fabric.
Step 4
Divide the measurement of the fabric before smocking by the measurement after smocking. Multiply this answer by the length of fabric you need to go around the top of the sundress. Add 1 inch for the seam allowance. This answer is the length of fabric required to make a smocked sundress. For example, if the measurement of your smocked sample is 3 inches, divide 6 by 3 to equal 2. Multiply 2 by 25 (the chest measurement for a sundress for a girl) and add 1 to get 51. You will need a 51-inch length of fabric (roughly 1.5 yards) to make a smocked sundress.