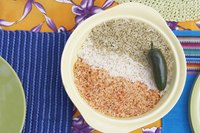 Native to Thailand, jasmine rice fills any room with an aromatic scent when cooked. The rice cooks well in stir-fries and adds a natural appeal to fish. Available in both brown and white, jasmine rice helps lower cholesterol. The rise does not require much effort to cook, but it does require patience. The rice must first be soaked in water before you can cook it on the stove top. The rice needs to absorb water to obtain its soft texture.
Things You'll Need
1 cup brown jasmine rice
Medium bowl
2 cups cold water
Saucepan
Salt
Kettle
2 1/2 cups boiling water
Fork
Add 1 cup of brown rice to a medium bowl. Add 2 cups of water to soak the rice for 1 hour. Drain the excess water from the rice.
Place the rice in a saucepan. Cook the jasmine rice uncovered over medium-high heat for 2 to 3 minutes. Cook until the rice becomes dry, and stir in a small amount of salt to add flavor.
Fill a kettle full of water. Bring the water in the kettle to a boil. Pour 2 1/4 to 2 1/2 cups of boiling water over the brown jasmine rice. Allow the water to return to a full boil.
Turn the heat down to medium-low. Cover the saucepan with a lid, and cook the rice until the water absorbs completely. This will take around 40 minutes. Try to avoid stirring the rice while it cooks.
Remove the rice from the heat source. Allow it to sit still covered for 10 minutes.
Use a fork to fluff the rice. Serve the rice immediately.