Things You'll Need
Medium saucepan

Soy sauce

Ground ginger

Granulated garlic

Brown sugar

Rice wine vinegar

1 can sliced or chopped pineapples in heavy syrup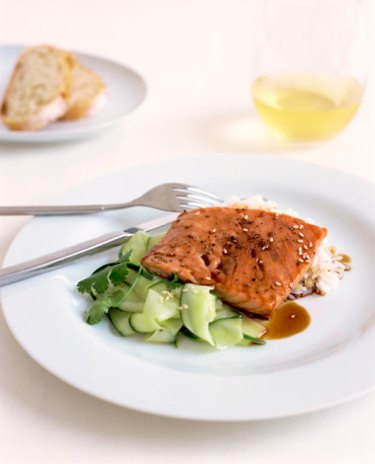 Teriyaki dishes originated in Japan in the 17th century, and they gained popularity in the United States in the 1960s. You can make homemade teriyaki sauce for a fraction of the cost of restaurant teriyaki. Save money and enjoy a favorite dish without having to leave home or swipe your credit card. You can also turn a homemade recipe into a marinade or for grilling.
Step 1
Heat 1 cup of soy sauce in a medium saucepan with 1 tsp. of garlic, 1/2 cup brown sugar, 1/2 cup of rice wine vinegar and 1/2 tsp. of ground ginger.
Step 2
Simmer the sauce for 15 minutes, then add 1 can of pineapples in heavy syrup. If you don't like the flavor of the pineapples cooked, you can drain the juice into the sauce and serve the pineapples on the side later.
Step 3
Use your homemade teriyaki sauce as a marinade; let the meat soak in it for 10 to 15 minutes before cooking.
Tip
If you plan to use your teriyaki as a brush-on grilling sauce for burgers, ribs or kebabs, lay the sliced pineapples on the grill for a few minutes, too. They make a beautiful garnish.