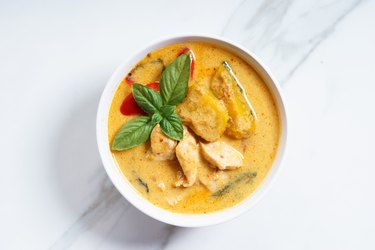 Curry powder, a blend of dried, ground spices typically used in Indian and other Southeast Asian cuisines, is a useful and versatile product to keep in your pantry. The spice blend varies from brand to brand, but typically features turmeric, cumin, coriander, chili, black pepper and often other spices as well.
With a scoop of curry powder and just a handful of other ingredients – most importantly, aromatics and a choice of liquid – you can easily create a beautifully flavorful and aromatic sauce in as little as 30 minutes. Add a choice of protein, vegetables or lentils along with a side dish of rice or flatbread for a full meal.
Start by Sautéing Some Aromatics
Even the most straightforward curry sauce made with curry powder is delicious as well as quick to prepare. Start by chopping an onion – chop it finely for a smoother sauce – and gently sautéing it in a little ghee, butter or oil.
When the onion is translucent, add chopped fresh garlic and ginger, followed a few minutes later by a generous amount of curry powder. Use approximately 1 to 2 tablespoons of curry powder per onion. Stir the mixture frequently over low heat for a few minutes until the spices are aromatic.
The liquid part of the curry sauce can be one or more of the following: chicken or vegetable stock; chopped or crushed tomatoes with their juice, either canned or fresh; or coconut milk, either regular or light. Add your choice of liquids to the onion and spice mixture, stir to combine and bring the sauce to a simmer. You can also add plain yogurt to a curry sauce for a thicker, creamy texture, but only do so at the end of the cooking time with the heat turned down low.
Add Proteins, Vegetables and More
To turn your curry sauce made with curry powder into a complete dish, add one or more proteins, such as chicken, shrimp or tofu, and some vegetables, lentils or beans. Most of these can be added raw and cooked by simmering in the sauce or can be precooked and added to the sauce to heat through.
With multiple additions that have different cooking times, add them in stages and adjust the volume of liquid accordingly. Lentils, for example, will take about 20 to 30 minutes to cook and absorb a lot of the liquid, whereas fresh spinach and frozen peas just need a few minutes of cooking time at the end.
Some additions are best sautéed along with the onions before adding the spices and liquid. Skinless, boneless diced chicken, sliced mushrooms, cauliflower florets and diced eggplant all work well with that method.
Ideas for Curry Sauce With Curry Powder
A homemade curry sauce with curry powder is incredibly versatile with endless variations, and it can easily be the basis for vegan, vegetarian and gluten-free meals. By adjusting the proportions and choices of liquids, you can make it rich and creamy or fresh and bright, mild or hot, thick or soupy and as simple or complex as you desire.
Experiment with other fresh and dried herbs and spices in addition to the curry powder and consider other interesting additions like shredded coconut, dried fruits and nuts. Some sauces benefit greatly from a spoonful of sugar and others from a splash of vinegar or citrus juice.