Things You'll Need
Broad-brimmed round hat in wool, felt or leather

Pins

Needle and thread

Measuring tape

Pictures of re-enactors or historical figures

Ribbons or trim for cockade (optional)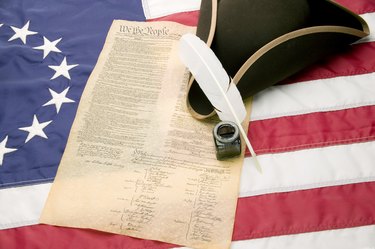 One of the most iconic uniform pieces from the Revolutionary War is the tricorne. This 18th-century hat is notable for its distinctive three-cornered shape, and it is surprisingly easy for modern-day costumers to recreate. Craft Revolutionary War hats as a fun project for kids, a good addition to a historical Halloween costume or a quick addition to a reenactment uniform. A simple version may not be entirely historically accurate, but it provides the right look.
Step 1
Study your reference material to decide what kind of tricorne you want. Several different types were worn during the Revolutionary War. Some were more common among civilians and American soldiers, while others were worn more by British soldiers. Fold the edges of your hat up all the way, or only a little. You might also include a cockade, a decoration such as a ribbon or feather. Choose which design you like best.
Step 2
Measure around the brim of the hat. Divide this measurement in three, and mark the the brim in three equal parts according to this measurement. Then fold up the sides of the hat evenly.
Step 3
Pin the sides of your hat in place against the crown. Try the hat on and see if you like the look. It's best to work out all the problems before you make a decision to sew the sides in place.
Step 4
Sew the folded flaps of your hat to the crown. Make small stitches using thread the same color as the hat. Large, X-shaped stitches are not authentic.
Step 5
Attach a ribbon or feather to one side of your hat as a cockade. Secure feathers with hot glue or fabric glue, and ribbons with stitching. Pay attention to the size and color of your cockades, especially if you're dressing up as someone famous, when an accurate representation is desired.
Tip
Some hats are folded unevenly for a more stylish appearance.
You can use a similar method to make a bicorne, or two-sided hat (similar to what Napoleon wore)--just fold up two sides.
Use a base hat that resembles historical examples.
Warning
Avoid big cockades unless you want to look flashy.