Things You'll Need
Balloons

Tape

Ribbon

Helium tank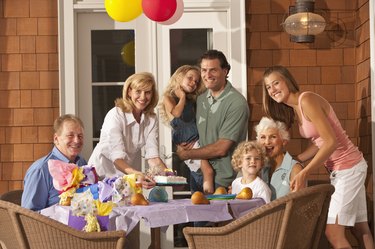 For holiday celebrations and special events, balloons are an easy and inexpensive way to decorate with flair. Used on tables, balloons add fun and festivity to centerpieces and ordinary tablecloths. They are easily coordinated with specific party colors and blend with almost any theme. Helium-filled balloons can be used to create floating arrangements or can be attached to table centerpieces to add an extra punch of fun.
Step 1
Choose a color scheme. Match or contrast the balloons with the linens and tableware you've selected. Use a single color for a subtle look or use multiple colors and sheens for more drama.
Step 2
Decide on balloon placement. You can gather several balloons into a bouquet and use them as a centerpiece; tie some together and attach them to table corners; or space them throughout a room individually with streamers.
Step 3
Make your arrangements. Once you decide where you want to use the balloons, create your designs. Don't forget to alternate colors if you're using several and vary the height of helium balloons. Use ribbon or tape to keep the balloons together.
Step 4
Attach the balloons to the tables. You can tape them directly to table cloths or tie them to table legs. Or you can attach them to floral arrangements or balloon weights to keep them in place as part of centerpieces.
Tip
Keep balloons away from heat and light sources that may cause them to pop.