Things You'll Need
25 chairs (optional)

Floor and pillows (optional)

Table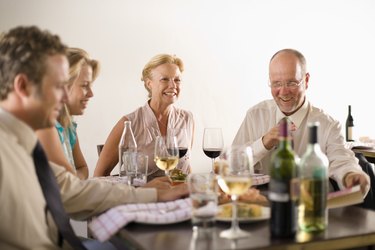 A traditional dining room table is said to seat as many as 12 to 14 people without complication. If you have even one more guest than this, you may find yourself playing a game of musical chairs to seat everyone comfortably. Here are some steps you can take to seat as many as 25 people around a small table for your next reunion party, book club meeting or small business presentation.
Cramped for Space? Make it Work.
Step 1
Set up plenty of places to sit. This could mean that you don't have chairs at all, because they might take up room. One single semicircle couch designed to encircle the table or, in cases where you have a table that is very close to the ground, floor-pillows and a nice floor-mat could provide much more seating space than the traditional use of chairs. The key point is that no one feels left out because you have more seats available than guests.
Step 2
Encourage lap sitting. This sort of thing is entirely reliant on what type of party you are hosting and what crowd will be there. If it's a family event and some of the guests will be young children, or you are hosting couples, it is not unreasonable to ask some of your guests to sit on the lap of their guardian or significant other. This may seem a bit informal, but depending on the type of party you are throwing it could enhance the feelings of familial closeness the group shares.
Step 3
Don't do anything that requires actually sitting at the table—just around it. For example, if you are trying to entertain 25 people for a dinner party, it's not mandatory that everyone sit at the table. You can place dinner dishes on the table and have seats placed throughout the room, facing the table. This allows for more space, and it is justified to set your chairs a few feet away from the table because guests will need room to serve themselves.
Step 4
Split the party up in to small groups. This is a clever method of ensuring everyone has a seat around the table when it really matters. For example, if you are having 25 people over for a business conference, book club or party, you can have six to seven people at a time stand up and give presentations, sing karaoke or play competitive games while the others sit and watch.