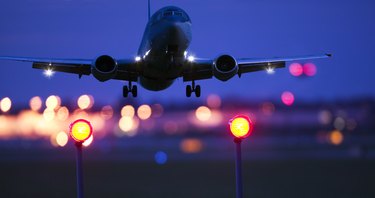 Airlines that have Transatlantic and other extended flights often offer their passengers the option of a pod-seat chair accommodation. These seats recline further than the typical airline seats, and in most cases, recline a complete 180 degrees into a flat bed. The pod seats are offered as an option in most first-class and above seating areas.
Virgin Atlantic Airways
The upper class sections of Virgin Atlantic Airways Boeing 747s offer 44 flat-bed seat pods. When these seats are reclined fully to 180 degrees, they offer passengers the same space as a bed.
Mexicana Airlines
Mexicana Airlines Boeing 767s offer 40 mini-pod seats in the MexicanaElite section; these seats recline, but not completely flat. While most pod seats are advertised to recline 180 degrees into a flat bed, these seats recline 175 degrees. Passengers can still kick back as if in a reclining chair, but they will not be laying flat as if in bed.
Royal Brunei
The Royal Brunei Boeing 767s offer business-class passengers 23 SkyDreamer pod seats that recline 77 degrees. They will not lay horizontal to form a bed, but they recline much further than a typical economy-class seat to offer passengers more comfort.
British Airways
The British Airways Boeing 777s offer 14 first-class passengers flat-bed sleeping pods that recline 180 degrees. They also offer 48 flat-bed seats for Club World travelers that recline fully into beds as well.