Things You'll Need
2 hardwood poles at least 11 feet long, 2-by-2-inch square

Saw

2 folding wooden saw horses

Level

3 yards heavy-duty unbleached muslin

Scissors

Sewing machine and thread

Iron

Staple gun and staples

Cotton strapping or webbing, unbleached or off-white

Drill

2 screws and washers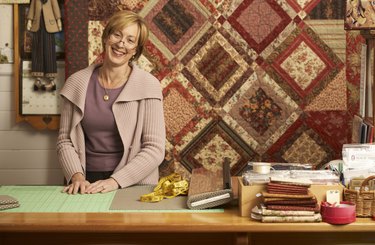 In the days of our colonial and pioneer ancestors, the quilting bee was an important social event. After a long winter of piecing quilt tops, women and girls would gather around a wooden quilt frame in the home of the hostess to finish the quilt and chat. Today, it is easy to build a portable wood quilt frame to hand quilt your own quilts by yourself, or with a group of friends in a good old-fashioned quilting bee.
Step 1
Cut the two poles if necessary so they are 11 feet long. This is long enough for a king-size quilt. Queen- and full-size quilts also will work on these poles; smaller quilts will need shorter poles.
Step 2
Trim and angle the legs of the two sawhorses, so the sawhorses stand 30 inches high and are completely level.
Step 3
Cut a notch about three inches from each end in the top bar of each sawhorse. Make it square and about two inches wide so that the poles fit in but do not spin.
Step 4
Cut two pieces of muslin 13 inches wide and 120 inches long. Finish the ends of each by hemming, then fold the strips in half, matching the raw edges and press. Fold the raw edges under; center one piece along the long side of one pole staple and this edge about six inches from the end. Repeat with the other piece and pole. You will baste the quilt layers to the muslin while quilting is in process.
Step 5
Cut two pieces of cotton strapping four times the length of the top of one of the sawhorses. Drill holes and attach one end of each strap to one end of each sawhorse with screws and washers.
Step 6
Move the sawhorses as necessary to accommodate the width of the quilt you are working on.
Tip
Cut sets of poles in different lengths to accommodate different size quilts. If you are making smaller quilts, you may uses narrower poles as well.